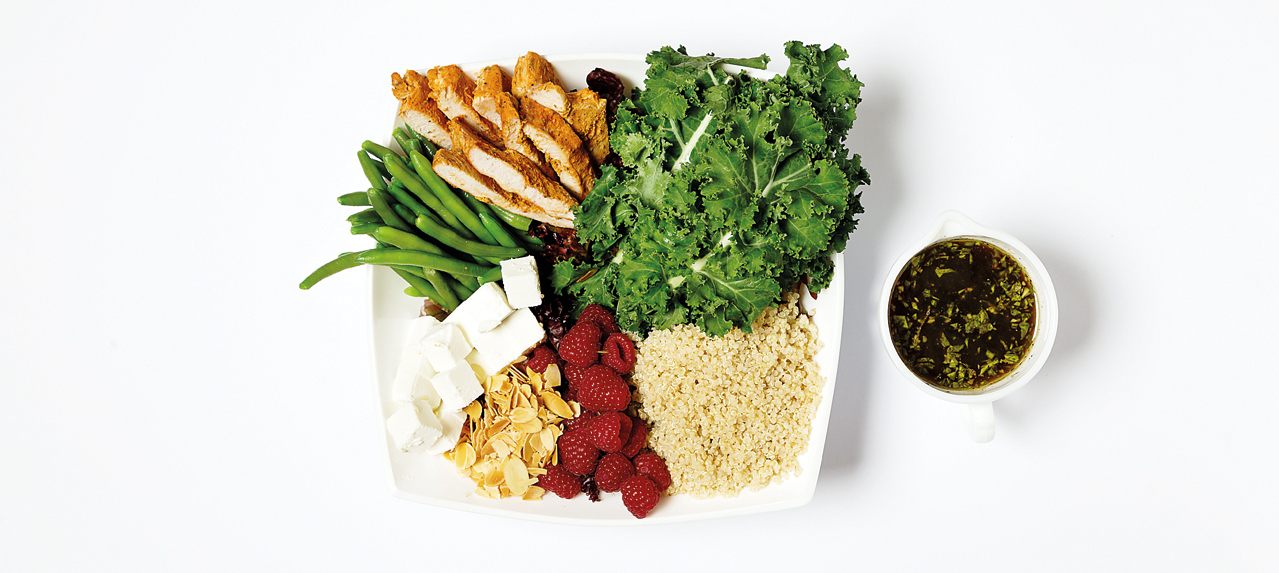 Chicken marinade
• 2 tbsp olive oil
• Juice from ½ lemon
• 2 tsp dry Italian seasoning mix
• 250g raw chicken breast, cut into tenders
Basil vinaigrette dressing
• ¼ cup apple cider vinegar
• 2½ tbsp honey
• ½ cup olive oil
• 2 cloves garlic
• ¼ cup fresh basil leaves
• Sprinkle of salt & pepper
Salad bowl
• 1½ bunches of kale cleaned and tough
ribs and stems removed
• 200g fresh green beans, with the
ends trimmed
• 15 sliced almonds sliced in halves
• 60g reduced fat feta cheese
• 1½ cups cooked quinoa
• ½ cup raspberries
1. Mix the marinade ingredients in a plastic bag and add in the chicken. Set aside on the counter.
2. For the dressing, blend all the ingredients in a blender until fully combined. Boil about 5 cm
of water in a medium sized pan.
3. Sprinkle salt over the water then add the green beans. Cook for about 4 minutes, leaving them
crisp in texture.
4. Rinse and soak in ice water until cooled. Drain and set aside. Brush extra marinade on chicken,
grill it and slice into thin slices.
6. In your salad bowl, create a pie effect by adding the cooked quinoa, raspberries, sliced almonds,
feta cheese, green beans, chicken and kale.
7. Drizzle with basil dressing and serve.