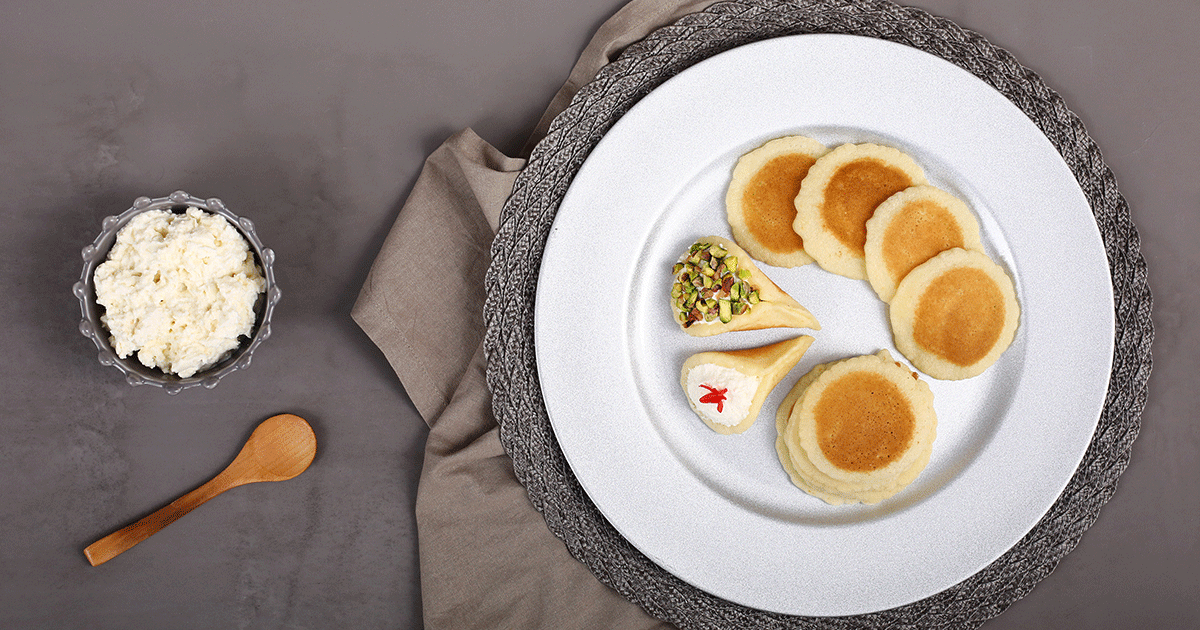 QATAYEF DOUGH
1.5 cup water
1 cup all-purpose flour
1/4 cup fine semolina
1 tbsp. sugar
1 tbsp. baking powder
ORANGE BLOSSOM SYRUP
1.5 cup sugar
1 cup water
0.5 tsp. lemon juice
1 tbsp. orange blossom water
FILLINGS (15 pieces)
Walnut filling
1 cup crushed walnuts
2 tbsp. sugar
2 tbsp. coconut flakes
1/4 tsp. cinnamon
A hint of ground cloves
1 tsp. orange blossom water
Cheese filling
1  cup shredded akawi or fresh mozzarella
1 tsp. sugar
½ tsp. cinnamon
 1/2 tsp. orange blossom water
Ashta filling
 1 cup homemade ashta
Mastic or orange blossom water
QATAYEF
Combine all the dough ingredients using a blender (start with the water). Blend for 2-3 minutes until you have a smooth batter.  Set aside to rest for 15 minutes.
Heat up a non-stick pan medium-low heat. Drop 1 tablespoon of batter and spread lightly using the bottom of your spoon.
 The qatayef will begin to bubble. Once there is no more shiny (raw batter) areas remove the qatayef are ready (do not flip them over). The qatayef should cook for 1-2 minutes.
Transfer the qatayef to a plate and cover with a kitchen towel and let the qatayef dough cool down.
TIP: The qatayef now can be frozen for a later use. If you are frying them fresh, make sure to keep them covered with the towel and fry them within an hour of filling them.
ORANGE BLOSSOM SYRUP
Dissolve the sugar in the water and cook over medium heat until the syrup thickens a bit about 10-12 minutes. Add the lemon juice and orange blossom water and cook for another 3 minutes.
FILLINGS 
Walnut filling: Combine together crushed walnuts, sugar, coconut flakes, cinnamon, a hint of ground cloves and orange blossom water.
Cheese filling Mix the  shredded akawi cheese or fresh mozzarella cheese with sugar,  cinnamon and orange blossom water.
Ashta filling: Mix ashta, infused with mastic or orange blossom water. Dip the open area with crushed pistachios.
Start stuffing them by placing each qatayef into your palm, add about 2 tsps. of your favorite filling in the middle, then fold it in half to make a crescent shape. Pinch the top firmly to close it out. Set aside.
FRIED QATAYEF
Deep fry them in batches for 2-3 minutes or until you see the golden crispy color.
Remove from the oil and set them over paper towels to take out any excess oil.
Give them a quick dip in the warm orange blossom syrup. Serve them warm.
OTHER RECIPES YOU MAY LIKE