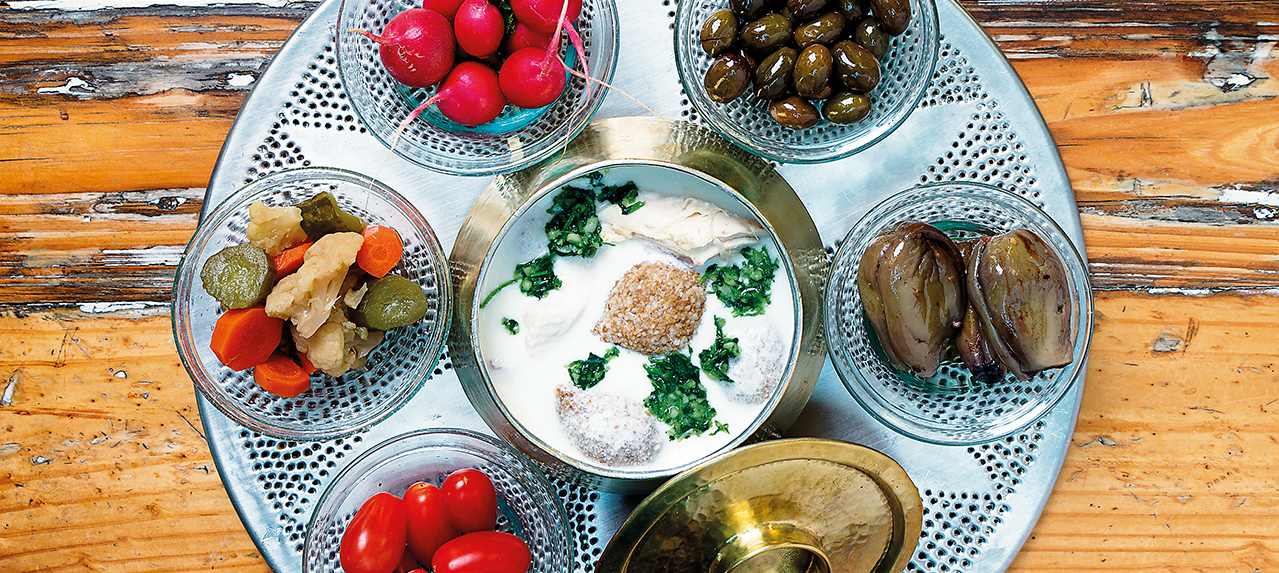 • 400g very fine beef ( habra )
• 400g fine bourghol
• 15g salt
• 15g 7spices
• 15g corn starch
• 1 kg laban
• 1 ½ kg chicken
• 1 bunch coriander
• 15g garlic
• 75g butter
• 100 ml chicken stock
• Bay leaf, cinnamon, salt and whole onion (aromatics for chicken)
1. Boil the chicken with aromatics for 1 hour. Take it off the bone.
2. For the kebbeh , wash and soak the bourghol for 10 minutes, squeeze out the water and make sure it's dry. Knead the bourghol with habra and the spices and salt. Knead for 5 minutes so that it's no longer sticky and it comes together.
3. Make kebbeh balls and leave empty. Fry the kebbeh in sunflower oil until it's golden brown.
4. For the laban , mix the cornstarch with the laban while its cold. Then, heat it and stir in one direction. It splits otherwise. Once it's about to boil, turn it off.
5. Add the chicken and the kebbeh. Top with coriander sauce.
6. For the coriander sauce, chop 1 bunch of coriander and 15 grams garlic. Melt 75 grams of butter and then add 100 ml of chicken stock. When it simmers add garlic and coriander. Stir and serve.