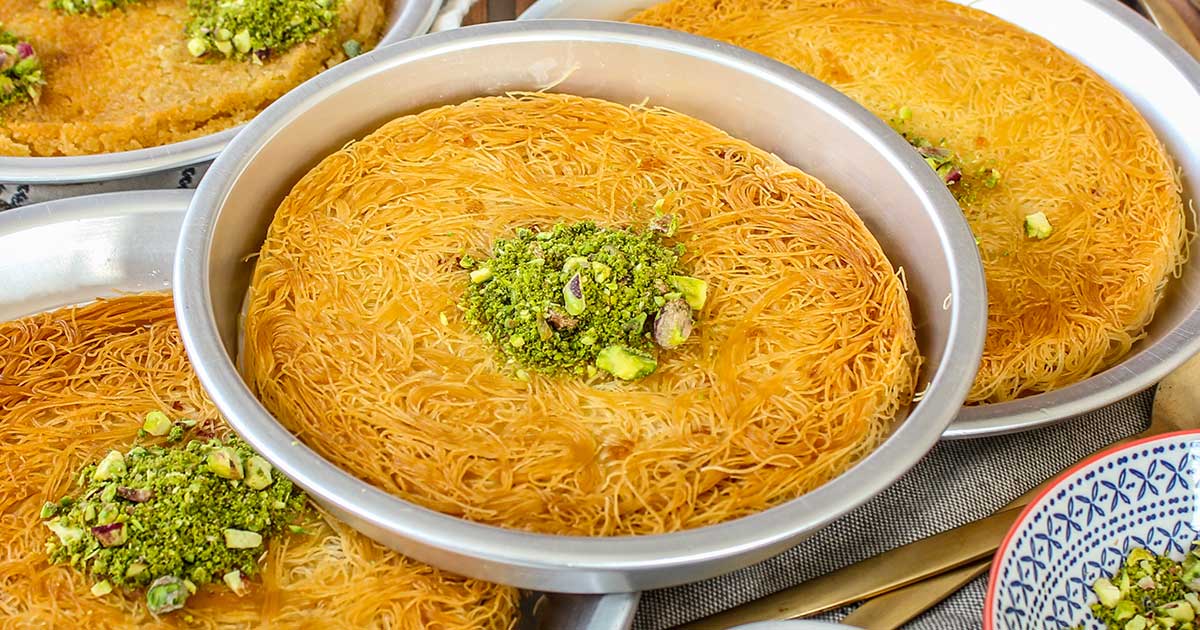 2 cups granulated sugar
1 cups water
1 squeeze lemon juice
1/2 kg knefeh
1/2 cup melted butter with 1/2 cup vegetable oil
1 cup Ikkawi cheese, soaked in water until no longer salty
1 cup mozarella cheese
Crushed pistachio
Pistachio ice cream
For the Syrup:
1. Mix the sugar, water, and lemon juice together in a pot.
2. Place over medium-high heat and bring to a boil, stirring occasionally until the sugar dissolves. Remove from the heat and set aside to cool.
For the Knefeh:
1. Preheat oven to medium setting.
2. Mix the butter and oil with the knefeh by massaging the knefeh threads with the mixture.
3. Spread two thirds of the knefeh mixture in a large round cake pan. Press firmly into the pan.
4. Spread the cheese over the knefe, leaving at least a few cm of space around the edges.
5. Cover the cheese with the knefeh, making sure to cover the edges first to seal the cheese and prevent it from leaking during baking. Press in firmly.
6. Bake in the preheated oven for 15 minutes or until golden.
7. Once baked, remove from the oven and carefully flip over onto a serving tray or plate.
8. Garnish with crushed pistachios and serve warm with the cool syrup and pistachio ice cream.