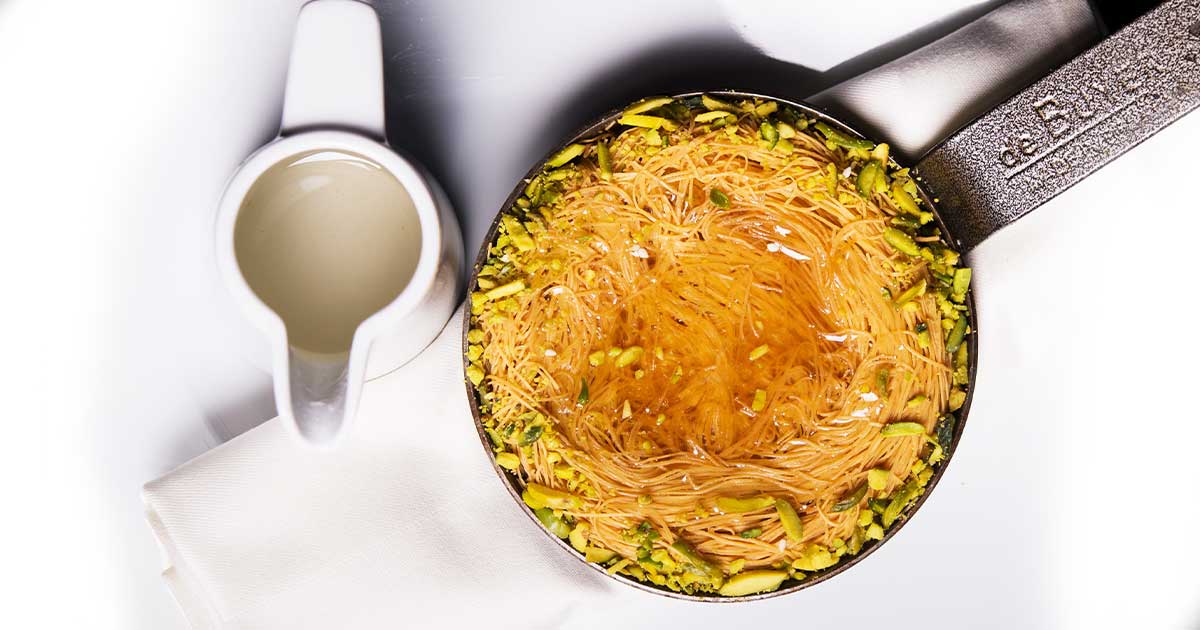 500g Fresh mozzarella cheese, grated
250g Kunafa pastry
100g Clarified Butter
Quick Apricot Jam
½tsp Ground cardamom seeds
30g Pistachio slivers to serve
250g Caster (superfine) sugar
100ml Water
1/2 Lemon Juice
30ml Rosewater
1. For the syrup, combine the sugar and water in a small saucepan and heat gently, stirring from time to time, until the sugar has dissolved.
2. Once the liquid is clear, bring to a boil, then simmer briskly for 10 minutes.
3. Remove from the heat and allow to cool, then stir in the lemon juice and rosewater. The syrup will keep in a sealed container in the fridge for up to 1 month.
4. When ready to bake the pastries, preheat the oven to 170ºC. Grease a 28 cm oven-proof, non-stick frying pan.
5. Loosen the nest of Kunafa pastry, and separate out a handful of strands. You need enough to create a thin layer on the base of the frying pan.
6. Drizzle with clarified butter and rub it in gently, so the pastry strands are well coated.
7. Flatten the pastry and bake for 5–8 minutes, until golden brown.
8. Remove from the oven and leave to cool for a few minutes. Increase the oven temperature to the oven to 180ºC.
9. Mix the apricot jam with the ground cardamom. If it is very thick, you might need to loosen it with a splash of water.
10. Spread a thin layer of jam over the pastry. Don't overdo it, you just want a suggestion of it's honeyed sweetness. There will be plenty more from the syrup.
11. Sprinkle the grated cheese on top in an even layer.
12. Separate out another similar-sized wodge of Kunafa pastry. Loosen the strands, rubbing them with clarified butter as you go, and sit on top of the cheese to form another layer.
13. Now comes the tricky bit: invert the whole frying pan onto a chopping board, then slide it back into the pan so that the cooked pastry layer is on top and the raw pastry is below.
14. Return to the oven for 8–10 minutes. The surface should now have deepened to a deep chestnut colour. Use a small spatula to peek at the bottom layer to ensure it's cooked.
15. Serve hot from the oven, garnished with pistachio slivers and with a jug of hot rose syrup on the side.