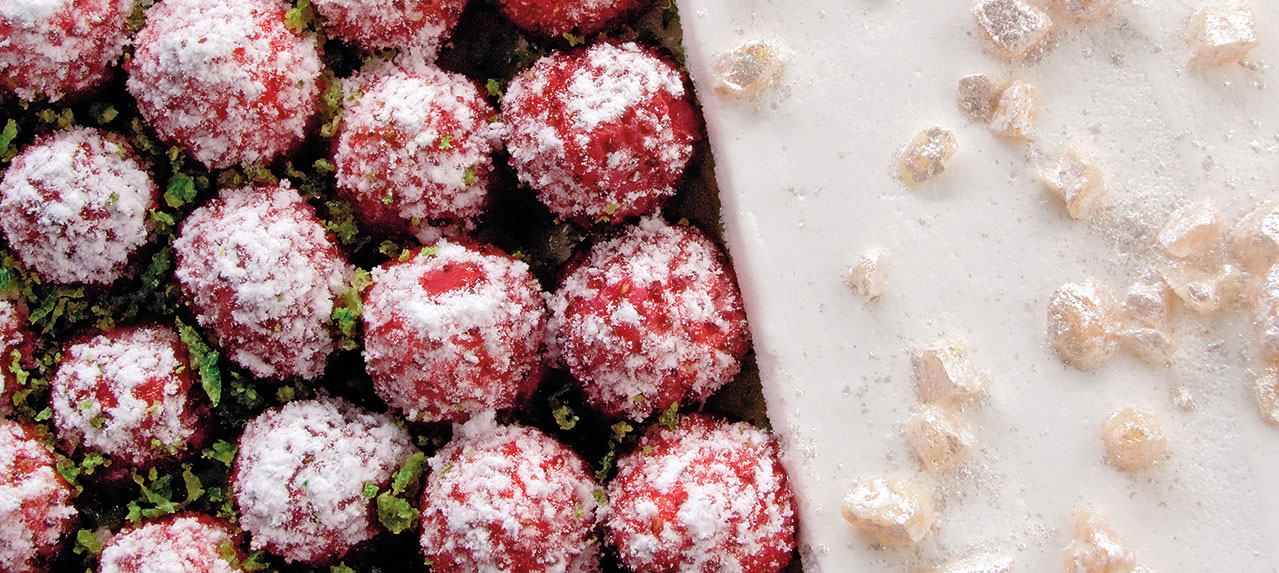 For the dough
180g flour
70g caster sugar
75g butter
3 egg yolks
For the meringue
100g sugar
50g white
10cm diameter circular stencil
For the caramelized almonds
35g whole almonds
25g sugar
20g water
For the light vanilla cream
125g milk
35g sugar
2 egg yolks
5g flour
5g custard powder
10g butter
2 vanilla pods
For the Chantilly cream
125g whipping cream
50g icing sugar
2 vanilla pods
1. For the dough, mix the butter and the icing sugar. Pour in the flour gradually. Add the egg yolks
and stir for 3 minutes.
2. Spread the dough on a plate covered with wax paper. Cover the dough with more wax paper. Cover with plastic wrap. Put it in the fridge for 6 hours.
3. Make the tartlets with the stencil and then bake. Put aside.
4. For the meringue, whisk the egg white until they form peaks; add the caster sugar towards the end to stiffen the mixture. Stir for 4 minutes.
5. Poach the egg whites on wax paper. Sprinkle with chopped silver almonds. Let them dry in an oven
at 100°C for 1 hour.
6. For the caramelized almonds, dry roast the almonds in an oven at 150°C. Cook the syrup at 120°C.
7. Add the almonds, stir, and caramelize. Spread the almonds on wax paper making sure to separate them while they are still hot. Put them in the blender, then strain to eliminate the powder.
8. For the light vanilla cream, boil the milk and the vanilla. Mix the egg yolks, sugar, flour and custard powder and pour the milk and vanilla on it. Let it cook for 2 minutes after bringing to a boil.
9. Smooth the mixture with the butter, spread it on a plate covered with plastic wrap and cover the mixture with another plastic wrap.
10. Whip the Chantilly by using the following mixture: 2/3 pastry cream and 1/3 Chantilly.
How to serve
Put some light cream on a tartlet. Put wild strawberries on one half of the tartlet and meringue on the other half. Sprinkle icing sugar and green lemon zest.