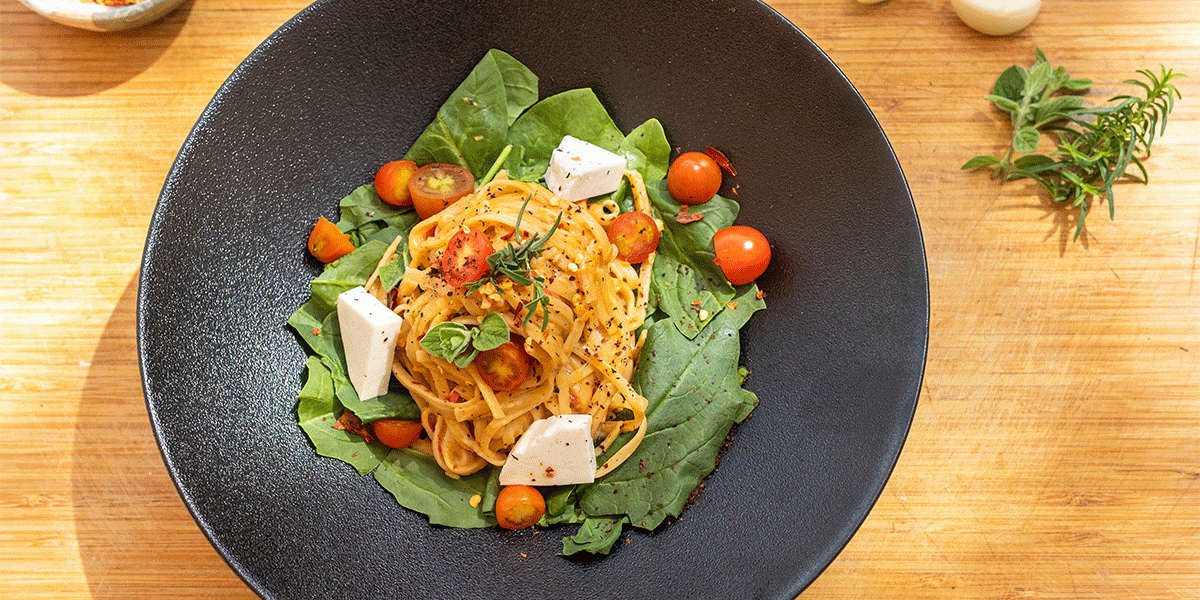 2.5g tagliolini (uncooked)
1g goat labneh
0.75g white onion
0.075g garlic
1.5g tomato
0.4l white wine
0.025g sumac
0.05g thyme wild
0.025g thyme local
0.025g paprika
0.01g chili flakes
0.025g salt
0.01g black pepper
Chop the garlic and onions and  slightly sauté  them in order to not change coloration
Chop the tomatoes and add them to the sauté onions on medium heat.
Add the chopped thyme, leaving a quarter of trimmed thyme leaves for the presentation.
Season the dish with sumac, paprika and chili flakes.
Pour a bit of white wine and reduce heat.
Cook the pasta in a similar fashion to the risotto, sauté it in a pan before gradually adding broth and stirring.
Once the pasta is almost cooked, add half the sauté vegetables. Reserve the other half in a bowl and mix it with goat labneh.
Add the goat labneh mixture to the pasta once it is cooked and ready to serve.
Add the grated cheese.
Decorate with plum tomatoes, sumac and thyme leaves.
OTHER RECIPES BY CHEF FARID CHEHAB