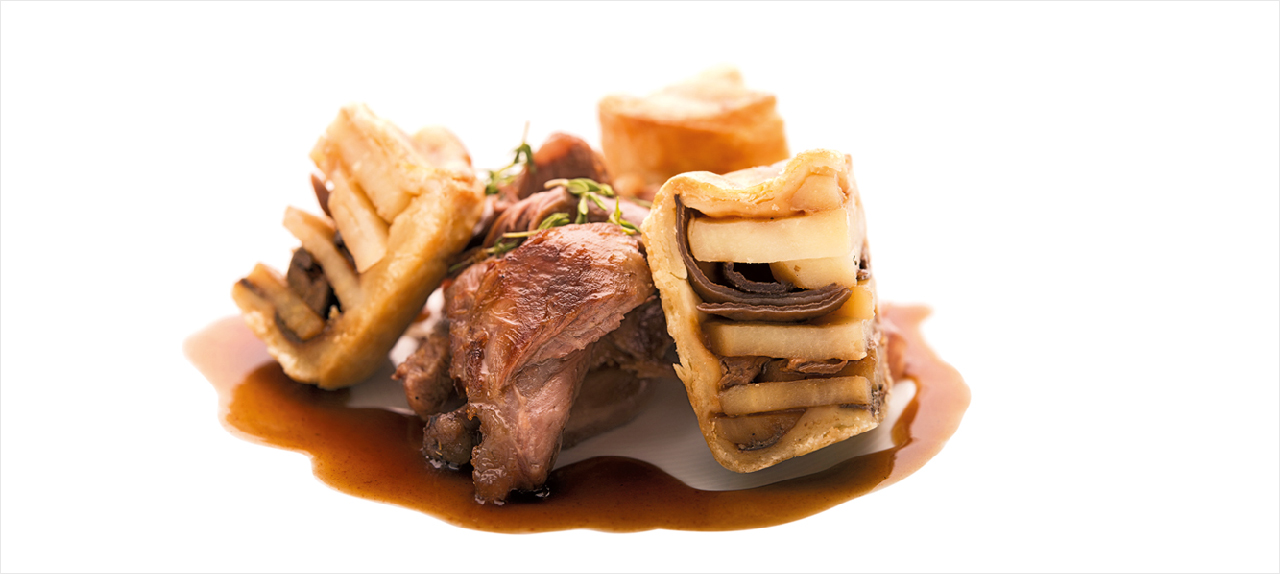 • 4 Australian lamb shanks
• 1 onion, chopped
• 1 carrot, chopped
• 3 celery rib, chopped
• 4 cardamom pods
• 6 cups lamb stock
• 1 tbsp butter
• 1 small Spanish onion, peeled and julienned
• 6 – 8 small Irish cobbler potatoes
• 3 tbsp heavy cream
• Salt and pepper
• Tart dough (recipe follows)
• 3 black truffles, thinly sliced
• 1 egg yolk
• 1 tbsp water
• 1/3 cup beef stock reduction
• 4 spring fresh thyme
• 4 tbsp white truffle oil
1. In a stock pot, place chopped onion, carrots, celery, Australian lamb shanks, cardamom and 6 cups of lamb stock and bring to the boil; then reduce to simmer until the meat falls off the bones. Remove meat from the bone and keep warm.
2. Sauté the butter and onions in a medium sauté pan for 10 to 15 minutes, or until caramelized and deep golden brown. Remove from the pan and cool. Slice the potatoes into 1/8 inch thick slices, place in a bowl and toss with the heavy cream. Season to taste with salt and pepper.
3. On a lightly floured surface, roll out the tart dough 1/8 inch thick. Cut into 8 circles large enough to line and cover four 3 x ½ inch ring moulds (other moulds of a similar size will also work).
4. Place the ring moulds on a parchment-lined sheet pan and fill with the tart dough, allowing for some overhang. Place a few truffle slices on the bottom of the dough and line with some of the caramelized onions.
5. Arrange 4 or 5 potato slices in a pinwheel pattern and season with salt and pepper. Cover the potato with some of the sliced truffle and place another layer of potatoes on top. Season with salt and pepper.
6. Place a final layer of truffle on top of the potatoes, reserving some for the garnish, and spread some of the remaining caramelized onions on top. Lay another circle of tart dough on top of the onions and seal the edges. Repeat for the other 3 molds.
7. Place in the refrigerator for 30 minutes. In a small bowl, whisk the yolk and water together. Using a pastry brush, lightly coat the top of the torte with the egg wash. Place in the oven at 375°C for 35 to 40 minutes or until golden brown.
8. Let sit for 5 minutes, remove from the rings, and cut into thirds. Place the beef stock reduction in a small saucepan and warm over medium heat.
9. To make the tart dough: 1 ½ cups of flour, 1 teaspoon salt, 1 cup cold butter, chopped 1/3 cup ice water. Place the flour, salt and butter in a bowl and, using a fork or dough cutter, cut the butter into the flour until you have pea-sized chunks.
10. Add the water and mix until just combined (the dough should have visible pieces of butter). Form into a ball, wrap in plastic and place in a refrigerator for 1 hour before rolling out.
11. Assembling the dish: Place three of the torte wedges on each plate with the points facing out. Place some warm lamb shank meat in the center of the wedges. Spoon the beef stock reduction around the torte and sprinkle with the remaining truffle slices and fresh thyme. Drizzle the white truffle oil around the plate if you like truffle oil.