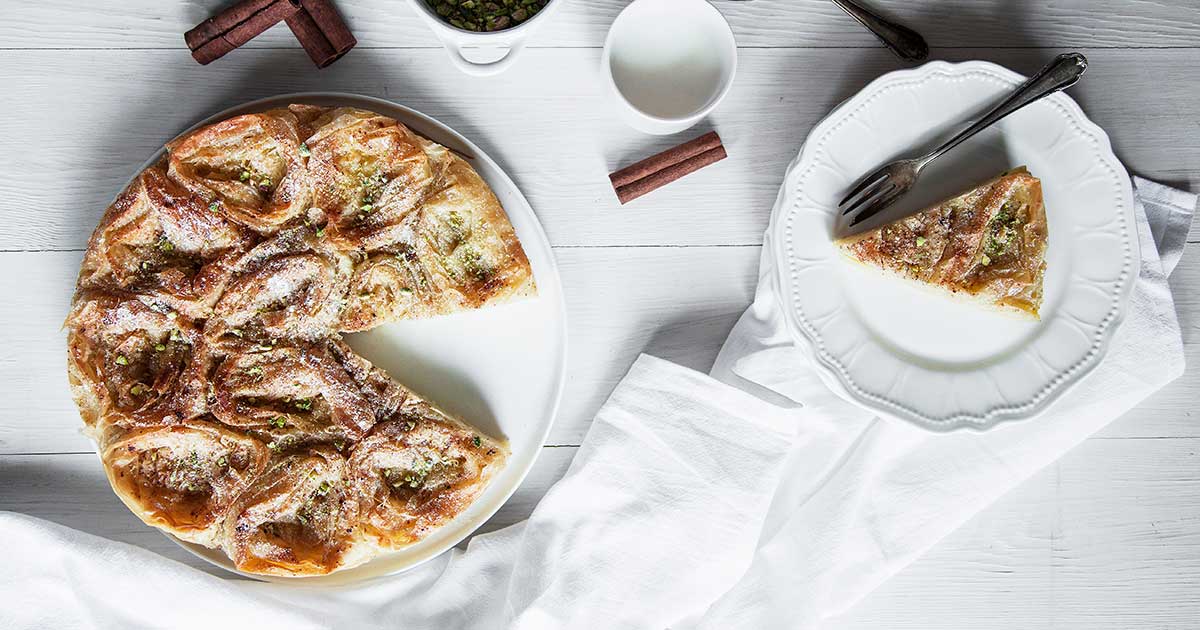 1l whole milk
1tsp Lavender edible
1 Lemon zest
2 Dried limes
60g Corn flour
70g Caster sugar
1⁄4tsp mastic, crushed
1tsp orange blossom water
300g clarified butter
10 sheets phyllo pastry (38×461⁄2cm each), at room temperature
500g Caster sugar
Juice of 1 lemon
50g Pistachios, coarsely chopped
1. Pour 750ml of the milk into a medium pot over low heat. Add the lavender, lemon zest, and dried limes, and bring to the boil. Remove from the heat and set aside for 20 minutes to infuse the milk with the flavors.
2. Mix the remaining milk and the corn flour in a small bowl.
3. Strain all the milk into a medium saucepan over medium heat. Add the sugar, then stir constantly until the mixture thickens slightly, about 20 to 30 minutes.
4. Stir in the mastic and the orange blossom water. Continue stirring until the mixture becomes a thick custard, about 30 to 40 minutes.
5. Transfer the custard to a glass bowl and cover the surface with cling film to prevent a skin from forming. Set aside to cool at room temperature for 1 hour, then chill in the refrigerator for at least 2 hours.
6. Preheat the oven to 180ºC.
7. Grease a 25cm spring form cake tin.
8. Cover the phyllo sheets with a clean, damp tea towel so they do not dry out.
9. Working with one sheet at a time, brush lightly with melted butter, then place in the baking tin. Allow the edges of the pastry to extend over the rim of the pan, and place the sheets to ensure the bottom of the tin is evenly covered.
10. Whisk the custard and pour it over the pastry. Fold the edges of the phyllo over the custard to enclose it. Brush the top of the pastry with the remaining butter.
11. Bake for 40 to 50 minutes, or until crisp and golden.
12. In the meantime, to prepare the syrup, place the sugar and 250ml water in a small saucepan over medium-high heat. Bring to the boil, then reduce the heat to low and simmer, stirring occasionally, until all the sugar has dissolved and the syrup thickens slightly, about 15 to 20 minutes. Transfer to a small bowl to cool at room temperature.
13. Remove the pie from the oven and immediately pour the syrup over it. Set aside to cool for 5 minutes in the tin, then transfer to a wire rack to cool completely at room temperature.
14. Before serving, sprinkle with pistachios.