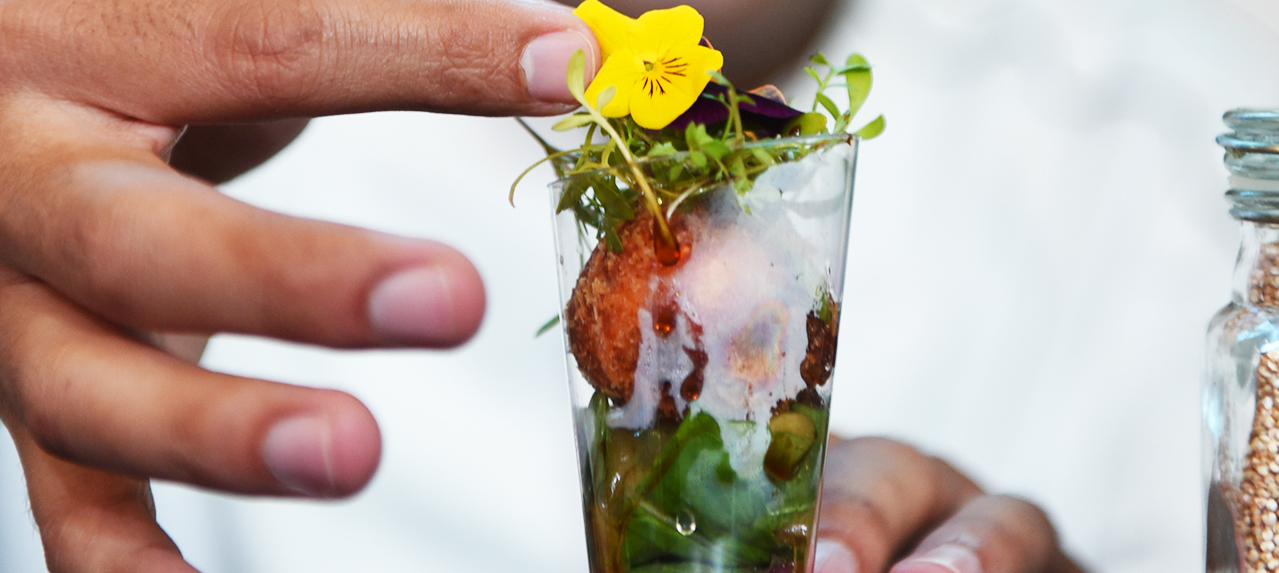 Cromesquis:
• 180g Lebanese goat cheese (mkaazali)
• 2 large egg, beaten
• 70g flour
• 10g Smoked paprika
• 80g panko bread crumbs
• Vegetable oil for frying
Garnish:
• 100g Arugula leaves
• 20g Sliced olives
• 20g pomegranate molasses
Vinaigrette:
• 80ml virgin olive oil
• 60g figs
• 40g shallot
• 15g honey
• 40ml balsamic vinegar
• Salt and pepper
• 70g virgin olive oil (for later)
1. To prepare the croquettes, divide the goat cheese into 8 equal portions. Use your hands to roll each portion into a ball. Using a fork, toss one ball in the flour and smoked paprika, coat with the beaten egg, and roll in panko until evenly coated. Set aside on a clean plate. Repeat with the remaining cheese. Chill.
2. To prepare the vinaigrette, in a medium sized saucepan set over medium heat add olive oil. Once the oil is warmed add in figs and shallot. Sauté until the shallots and fig begin to soften.
3. To a blender add the saucepan mixture, honey and balsamic vinegar. Blend on high speed until mostly smooth. While the blender is running slowly pour in olive oil. At this point the mixture will be thick. You can use water to thin it out or use it thick. Let the vinaigrette cool and use for salad.
4. Just before serving quickly deep fry the Cromesquis until golden brown, drain and dress in a deep plate. Sprinkle the Arugula around, season with figs vinaigrette and finish with black olives and few drops of pomegranate molasses.