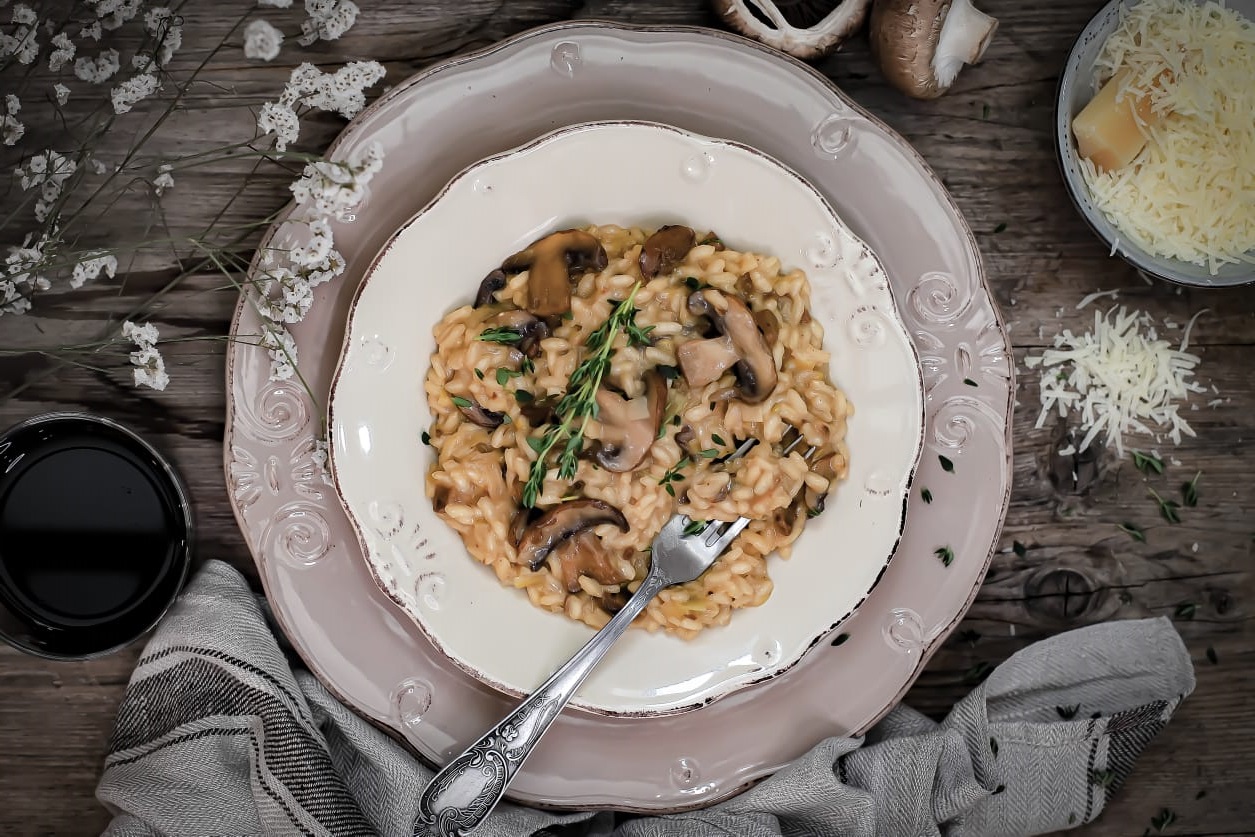 For the stock
1 carrot, roughly chopped
1 potato, roughly chopped
1 small onion, quartered
1/2 leek, roughly chopped
1 big laurel leaf
Salt
A drizzle of olive oil
1 1/2 L of water
Parmigianino crust, optional
For the Risotto
1 big leek, green parts discarded, white part washed and finely chopped
250 g button mushrooms, cleaned and chopped
A handful of dried porcini
2 cups of Arborio rice
A couple of thyme sprigs
1 cup grated parmigiano
100 g butter
A bit of extra virgin olive oil
1 cup of dry white wine
Salt to taste
For the broth
Place all the ingredients in a pot over medium heat and bring it to a boil then lower the heat and let it simmer gently. The longer it cooks the more flavorful it becomes (around 1 hour).
For the risotto
In a small bowl add the porcini, cover with hot water and set aside.
Place a frying pan over medium heat and add the chopped mushrooms. Cook till they start to brown then add the butter and thyme leaves.
Take the porcini out of the soaking water (do not throw the soaking liquid) and give them a rough chop. Add this to the mushrooms and cook for about 5 minutes. Turn off the heat and set aside.
In a deep pot, placed over medium heat, add 25 g of butter, a drizzle of extra virgin olive oil and the chopped leek. Let this cook gently for around 10 minutes until the leek is tender and sweet.
Add the rice and mix everything together well. Let the rice toast for a couple of minutes.
Add the wine and let it cook till absorbed by the rice.
Add a ladle-full of hot stock. Stirring often, cook until the rice has mostly absorbed the liquid. Continue adding stock a ladle-full at a time, allowing the rice to absorb it after each addition of stock before adding more.
Halfway through add the mushrooms and the soaking liquid. Continue stirring and adding stock until the risotto is al dente and creamy, not mushy, you might not need all the broth.
When the rice is al dente turn off the heat, cover the pan and let the risotto rest for exactly 2 minutes.
Mantecatura
Take off the cover and add the remaining butter and the parmigiano and vigorously mix them both in the risotto until the butter and cheese are completely melted and incorporated. Serve immediately sprinkled with extra parmigiano obviously!!
Buon Appetito!