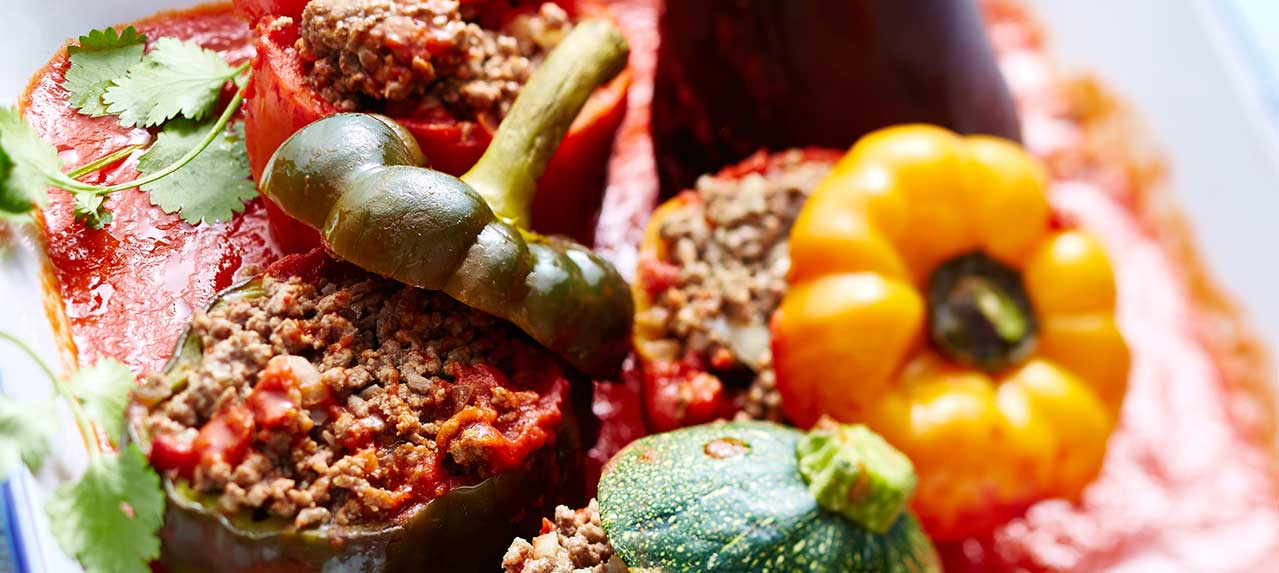 • 4 round zucchini
• 4 peppers (red and yellow)
• 4 short and large eggplants
For Farce
• 400 g ground beef
• 1 chopped onion
• 2 garlic cloves, finely chopped
• 2 tbsp. tablespoon of olive oil
• 6 pinches of Himalayan salt
• 3 pinches of cayenne pepper
For Sauce
• 50 cl of tomato sauce
• 1 garlic clove, finely chopped
• 1 tsp. tablespoon of olive oil
• 3 pinches of Himalayan salt
1. Prepare the stuffing.In a large saucepan, sauté onion and garlic in olive oil.
2. Add the meat with salt and chilli and cook for 10 minutes, stirring. Place the stuffing in a bowl.
3. In the same saucepan, prepare the sauce. Heat tomato sauce and garlic in olive oil with salt.
4. Meanwhile, cut the zucchini and pepper hat, then empty the inside.
5. Cook the eggplants 10 minutes in boiling water to soften them, then cut their hat and dig the flesh.
6. Stuff all the vegetables, put them in the pan with the tomato sauce and put the hats back on.
7. Cook for 15 minutes over low heat. Use eggplant flesh to prepare eggplant caviar.
Tips
Zucchini contains 95% water, and is an effective diuretic, helping to fight against the retention of water. Its fibers are beneficial to intestinal transit and make it slightly laxative. Its high potassium content makes it an ally of the heart and arteries, and the antioxidants it contains, lutein and zeaxanthin, protect eyes from age-related diseases