LOBSTER STUFFED DIM SUM WITH WAKAME AND CORN CREAM
Serves 4 | Prep/cooking 35 mins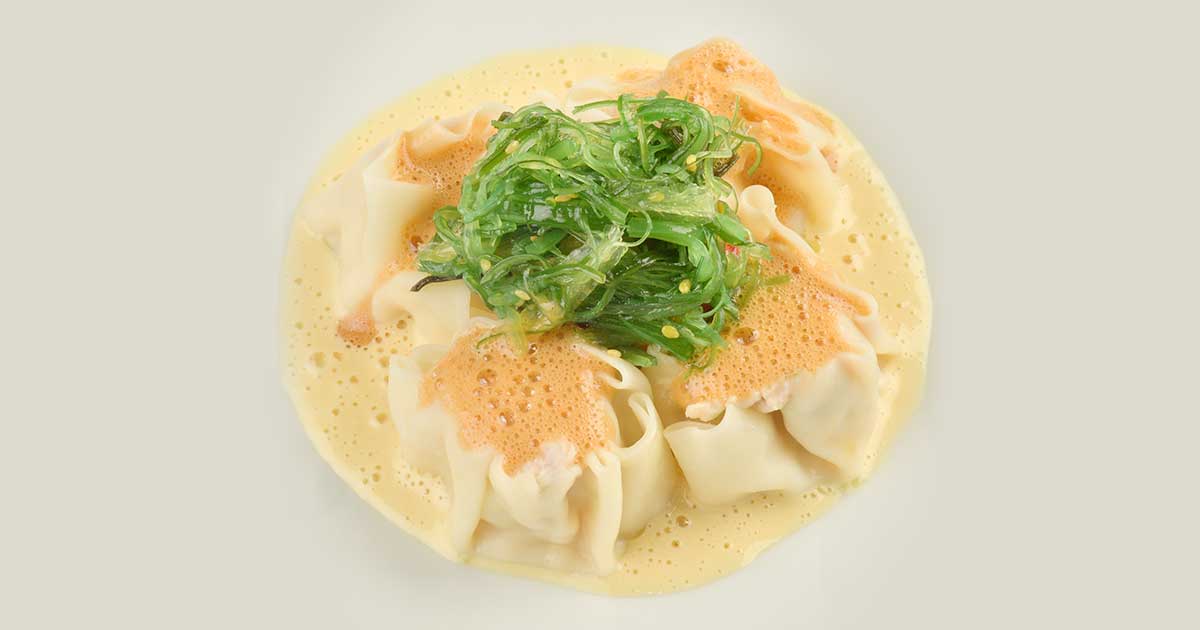 12pcs Chinese ravioli
400g raw lobster
120g poultry fillets
120g cream
100g corn
4g sesame oil
8g teriyaki
20g coriander
20g sliced ​​onions
170g chicken filet
80g wakame
12cl sweet chili sauce
1pc egg
Salt / pepper
10g white and black sesame
For the ravioli dough, check the recipe.
Lobster
1. Cook the lobsters in boiling salted water for 5min.
2. Take out the lobsters and uncork.
3. Cut lobster into mirepoix.
4. Make the chicken stuffing with the chicken filets, cream, sesame oil and teriyaki.
5. Once smooth, add lobster mirepoix, chopped coriander, check seasoning and place in the fridge.
6. Slice ​​onions.
7. Add the corn, cook for 2 minutes.
8. Add the chicken stuffing and cream. Bake again for 5 to 10 minutes depending on the amount.
Realize DIM SUM
1. Spread the Chinese ravioli, using a pastry bag put about 20g of lobster stuffing by ravioli
2. With the help of a paintbrush, swallow the edges of the ravioli and pinch the stuffing.
3. Flatten the top of the ravioli with a knife.
4. Steam basket cooking for about 8 minutes and cool in ice water.
5. Warm up when serving.
6. Put a little sweet Chili sauce on each ravioli, then a little wakame and sesame, serve hot on the corn cream.