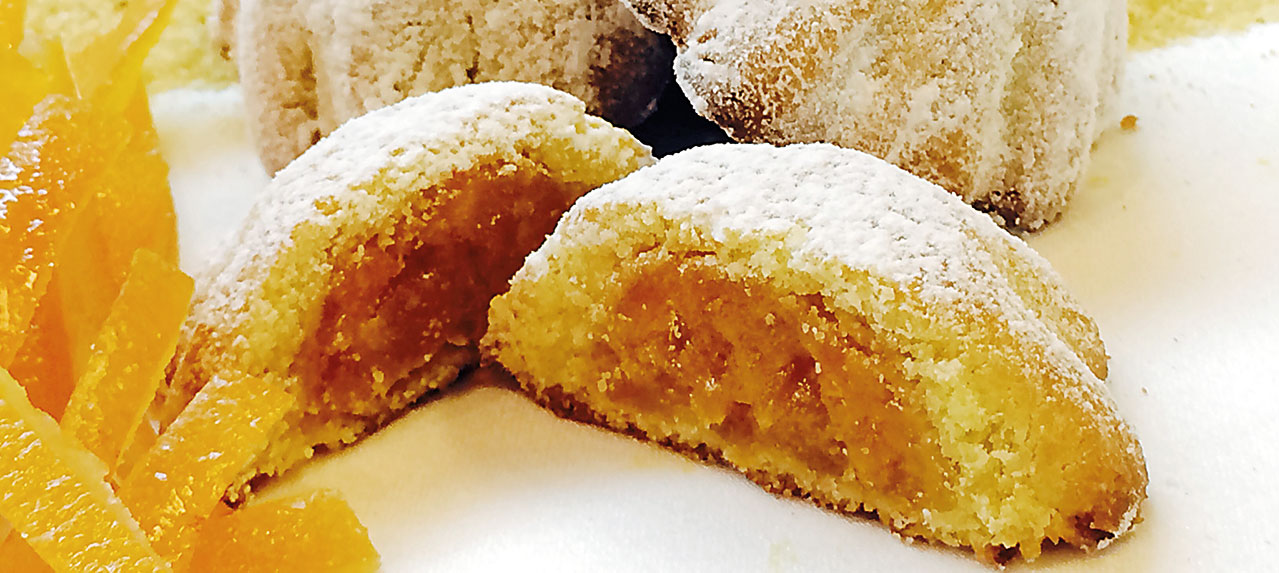 Crust
1kg semolina
100g powdered sugar
100g powdered milk
5g vanilla
6g mahlab
200g butter
200g ghee
250g water
100g rose water
10g yeast
Filling
800g dried bitter orange peel (bousfeir)
200g honey
5g mahlab
50g vegetable oil
50g ghee
5g orange blossom water
1. In a bowl, combine semolina, butter, ghee, powdered sugar, powdered milk, mahlab, vanilla and yeast. Mix well. Cover tightly and set aside for one hour.
2. Meanwhile, mix the bousfeir with honey in a food processor and grind at high speed for around 2 minutes. Add mahlab, vegetable oil, ghee and orange blossom water and grind for a couple more minutes. Don't grind them too much to keep chunks of the bousfeir.
3. Add rose water to the dried mixture and knead by hand until the dough starts to hold together
or forms a paste.
4. Remove a small piece of dough and flatten it with your hands and place a teaspoonful of the filling on top. Close carefully to form a ball.
5. Press the stuffed dough into a wooden mold to form a pattern on the upper side of the dough.
6. Tap out onto a cookie sheet that is not greased and bake at 250°C for 5 minutes or until lightly colored but not browned.
7. Remove from oven, sprinkle with powdered sugar, let it cool down, and then sprinkle again with the powdered sugar.