MAIS AL GHANIM SHRIMP COCONUT
Serves 2 | Preparation 25 min | Cooking 45 min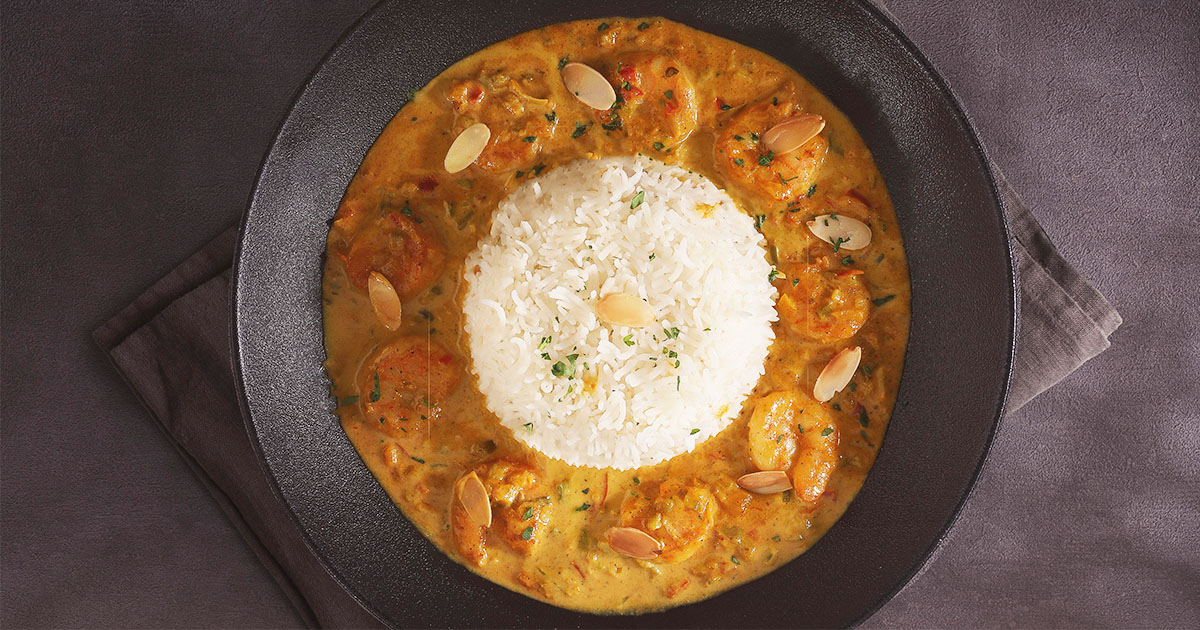 Shrimp Marination
600 g yogurt
30 g ginger garlic sauce
5 g mustard oil
2 g masala powder
6 g masala tandoori powder
4 g salt
2 g kasare matte powder
2 g veg chana masala powder
1 g cumin powder
20 g fresh lemon juice
10 g fresh coriander
Coconut Gravy
50 g red capsicum diced
50 g green capsicum diced
50 g yellow capsicum diced
100 g green zucchini diced
40 g onion chopped
10 g garlic chopped
100 g biryani gravy
200 g coconut milk
10 g curry madras
2 g fresh coriander
10 g salt
2 g white pepper
2 g turmeric powder
70 g corn oil
2 g coriander powder
5 g lemon grass
To Serve
White rice
Almond roasted flax
Chopped coriander leaves
Clean the shrimp put in the strainer.
For the Marination
Add all the ingredients and whisk until you get a creamy consistency.
Add the shrimp to marinate for 2 hours (or overnight).
For the Coconut Gravy
Cut the capsicum and zucchini into cube and chopped onion and garlic.
Heat the oil in a large saucepan over a high heat. Add the capsicum, zucchini, onion and garlic and cook for 8 mins.
Combine all the spices and add them.
Bring it to a boil then reduce the heat and keep cooking for about 10 minutes.
Add the shrimp and cook for about 8 -10 minutes.
Serve with white rice.
Garnish with almond roasted flax and finely chopped coriander leaves.