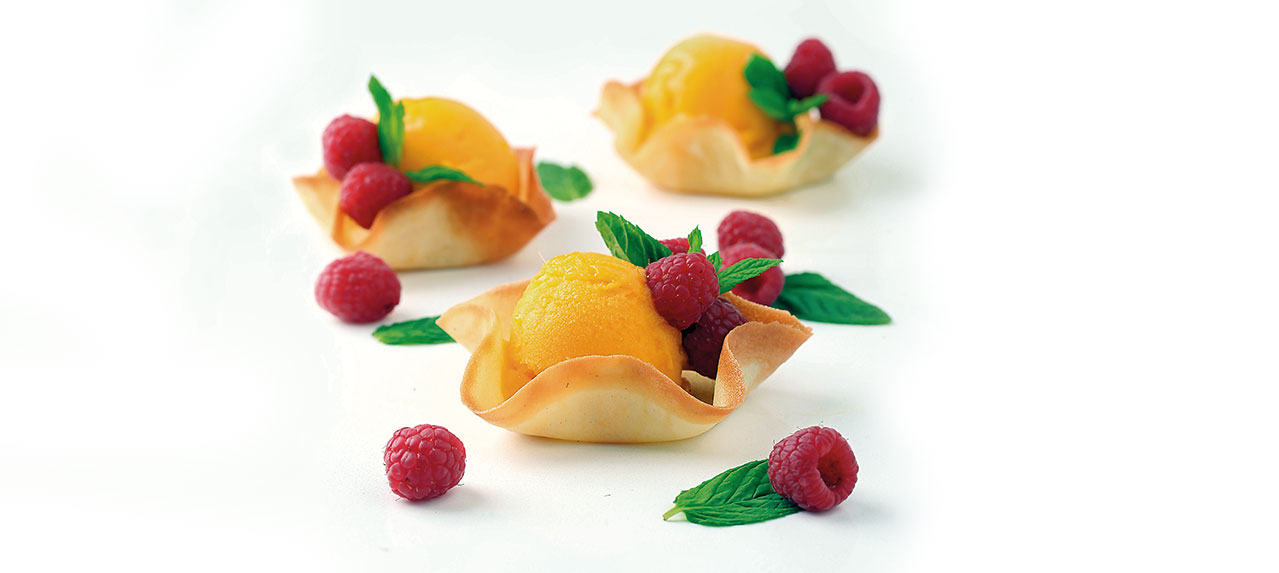 Sorbet
2 large mangos
½ cup sugar (can be replaced with honey)
½ cup water
3 tbsp lemon juice
Cookie shells
¾ cup egg whites
1/3 cup flour
6 tbsp melted butter
½ tsp vanilla
¼ tsp salt
Lemon zest (optional)
Cookie Shells
1. Preheat the oven to 180°C. Grease a large cookie sheet.
2. In a large bowl, beat the egg whites, sugar and flour until well blended. Beat in melted butter, vanilla, salt and lemon zest if using.
3. Make two cookies at a time: drop 1 large tablespoon of batter onto one end of cookie sheet. Repeat to make a second cookie while keeping them apart. (Do not place more than two cookies on cookie sheet because, after baking, cookies must be shaped quickly before hardening.)
4. With a spatula, spread the batter to form 11cm rounds. Bake cookies 5 to 7 minutes or until
golden around edges.
5. Place two glasses, each with about a 4cm base, upside down on a work surface. With a spatula, quickly lift one hot cookie and gently shape over the bottom of a glass to resemble an open shell. Repeat
with the second cookie.
6. When cookies are cool, about 15 minutes, transfer to wire rack. (If a cookie becomes too firm to shape, you can still place it back in oven to soften slightly). Repeat with the remaining batter.
7. Store cookies in single layer in airtight container at room temperature up to three days. To serve, place on dessert plates and fill with sorbet.
Sorbet
1. This is a "no-machine" alternative to make a sorbet. The day before you want to make the sorbet, cube the mangos and freeze them in chunks.
2. Make the syrup by heating water and stirring in the sugar until dissolved, set aside to cool.
3. Using a food processor, blend the frozen mangos to make a purée. Add half of the syrup (to test the sweetness), lemon juice to taste, and blend to combine.
4. Serve immediately or you can transfer to a freezer-safe container and freeze. Let it soften about 15-20 minutes before serving.