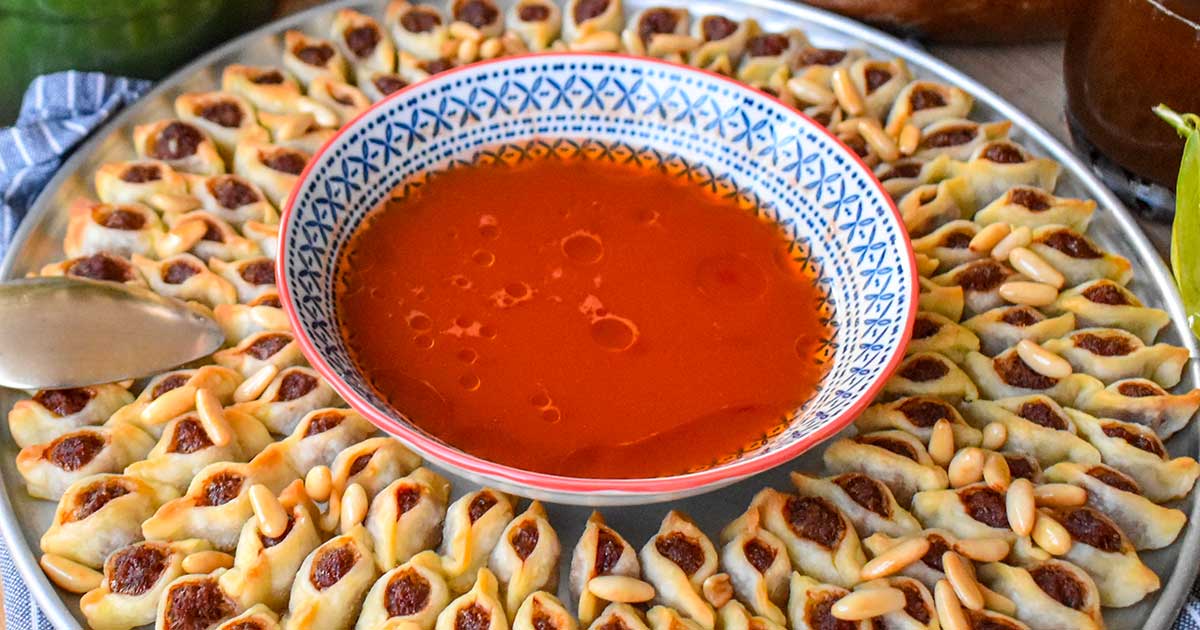 2 cups Flour
1 tsp Salt
4-5 tbsp sunflower oil (or any vegetable oil)
Water to bring the dough together (quantity varies)
200g Minced meat
1 small onion, finely chopped
1/2 tsp salt
1/4 tsp pepper
3 cups meat stock
1-2 tbsp tomato paste
3 cups yogurt
1 small garlic clove
Mix the flour and salt and make a hole in the middle. Add the oil and a bit of water and start kneeding with your hand -alternatively, you can use the dough hook of your mixer- Knead it well until you have a proper dough. You can add extra water to have this result.
Cut the dough into two pieces and let them rest in a slightly greased bowl (with a bit of oil) for around 30 minutes. Mix well the filling ingredients.
Roll the dough out not so thin, about 2mm thick, and then cut it into strips (with a width of 3 cm), then into small squares.
Place a little filling on each square, and close them up making a small boat.
Cover up your pan with vegetable oil and add the small dumplings one after the other. Before placing them in the oven, cover them with a bit of oil.
Place in a preheated oven at 180ºC and leave until the meat is cooked and the dough gets a nice golden color.
To make the tomato sauce, heat the meat stock and add the tomato paste. Stir until completely melted. This is added over the manti.
To make the yogurt sauce that is added just before serving, mix the yogurt and the garlic (make sure it is lump free).
OTHER RECIPES BY MANAL MASSOUD