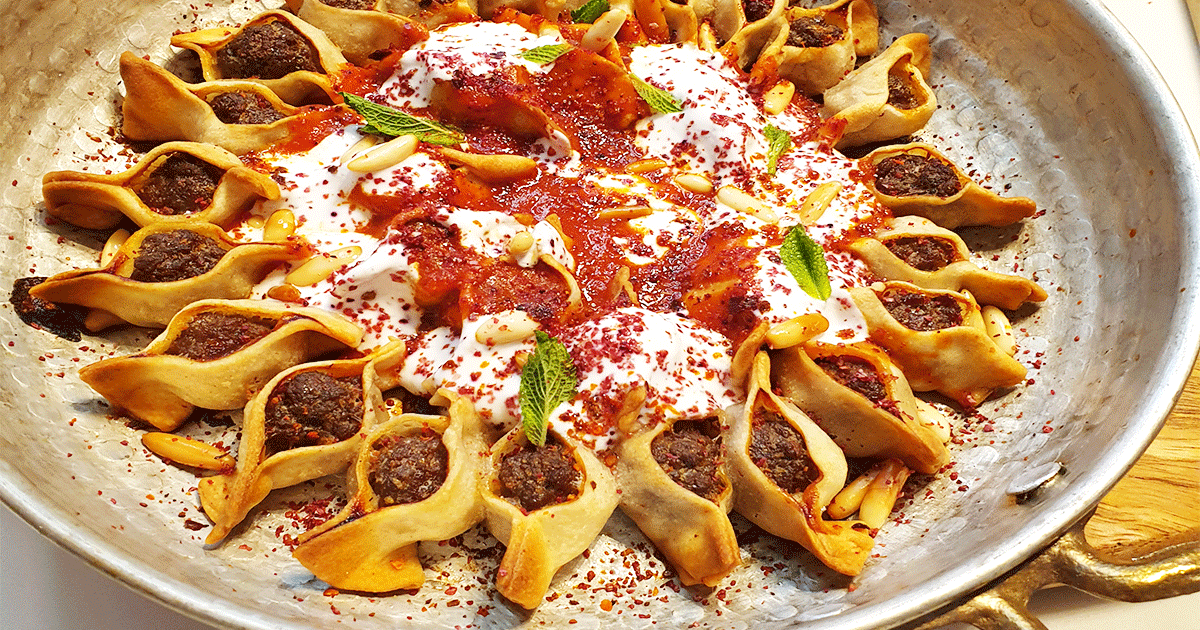 Dough
2 cups flour
½ cup water
2tbsps vegetable oil
½ tsp salt
Filling
250g ground beef
1 small onion, grated
¼ tsp black pepper
Toppings
2 cups yogurt
1 garlic clove
½ tsp salt
Dried mint
3 tbsp. tomato paste
1 tbsp. olive oil
1 cup water
2 tbsp. toasted pine nuts
½ tbsp. sumac
½ tbsp. Aleppo pepper
Salt, pepper
The dough
Add oil, salt, and around half a cup of water to your flour gradually until the dough comes together.
Knead well, cover and let it rest for around 30 min.
In the meantime, grate the onion and mix it into the mince with salt & pepper.
Brush a baking tray with oil and turn the oven on to 200°C.
Sauté some tomato paste in olive oil 1-2 min then add garlic & onion powder & black pepper to flavor it then add water to make a sauce. Let it simmer for 5 min.
Add one grated/mashed garlic clove with salt to the yogurt and whisk well to attain a smooth texture.
Add dried mint too.
Sprinkle flour on a clean counter and roll part of your dough out into 1mm thick sheet. Cut into small 3×3 cm squares and fill each square with a bit of your meat mixture. Pinch the sides to make a little boat. Place them on your baking tray. Bake until golden brown (20 to 30 min).
Serve with the 2 sauces on top, sprinkle with toasted pine nuts, sumac, and Aleppo pepper.
MORE RECIPES BY FARAHSKITCHEN