MARRAKESH VEGETABLES & QUINOA COUSCOUS
Serves 4-6 | Prep/cooking time 45mins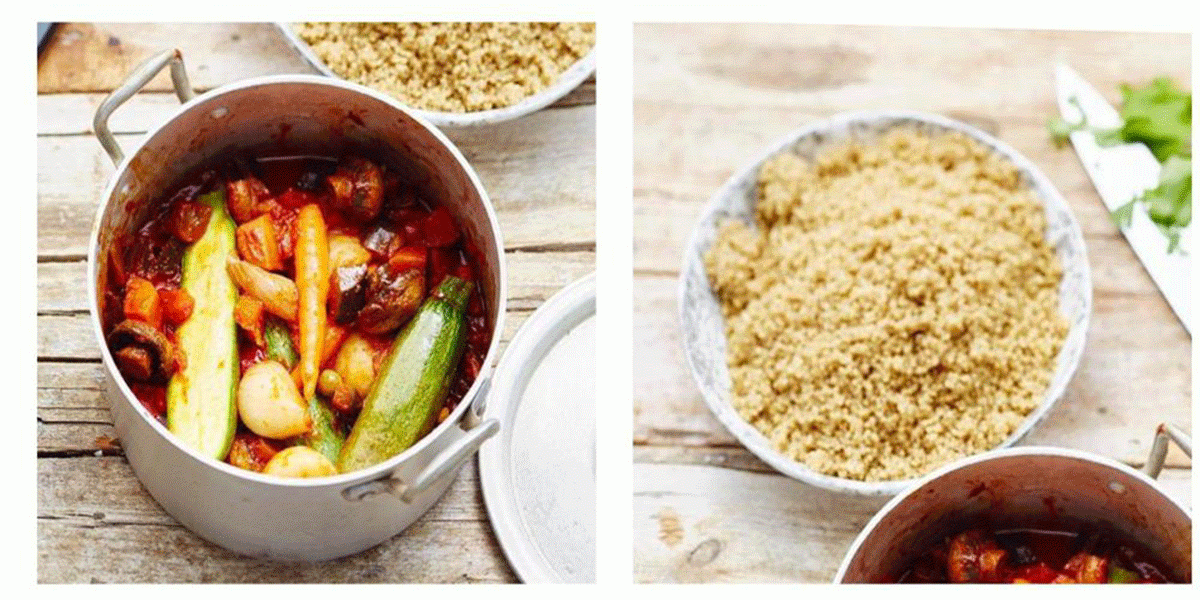 400 g quinoa
4 small turnips
4 small carrots
4 small zucchinis
1 red pepper cut into cubes
2 small eggplants cut into large cube
100 g of green beans
100 g of pumpkin cut into cubes
100 g small Paris mushroom
6 tbsp. of olive oil
1 bunch of green onion
10 garlic cloves, peeled
6 pinches of Himalayan salt
1 pinch of cayenne pepper
500 ml tomato sauce
1 drizzle of olive oil
Soak the quinoa for 2 hours in water, then rinse and drain it. Cook it for 15 minutes in 600ml of water.
Meanwhile in a large saucepan, add the coconut oil, onion bulbs, garlic, salt, chili, vegetables and mushrooms. Mix, pour the tomato sauce and cook for 30 minutes over low heat.
Serve the quinoa and vegetables separately after drizzling them with olive oil.
DID YOU KNOW
Quinoa is naturally gluten-free and generally well tolerated by those with celiac disease. It can also help improve the nutrient profile of a healthy gluten-free diet. It may also reduce blood cholesterol, blood sugar, and triglycerides. It's weight loss friendly, and has been shown to increase the nutrient and antioxidant value of gluten-free diets.
OTHER RECIPES BY SABINE MAZLOUM