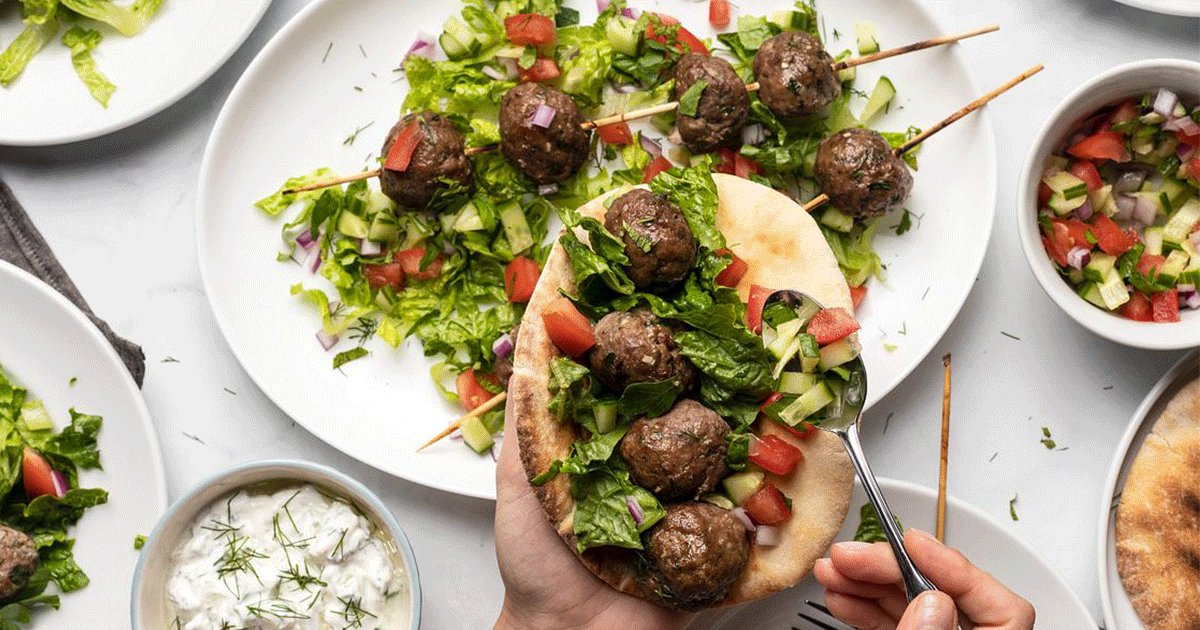 Picture courtesy of beefitswhatsfordinner.com
1 pound ground beef (93% lean or leaner)
1/4 cup dry breadcrumbs
2 egg whites or 1 whole egg
2 tbsps. chopped fresh parsley
2 tbsps. water
2 tsps. minced garlic
1 tsp. ground cumin
1/2 tsp. salt
1/4 tsp. pepper
4 flatbreads (such as naan, lavash or pita bread)
Toppings (optional):
Chopped tomatoes, chopped cucumber, chopped red onion, chopped fresh parsley, Tzatziki sauce
Heat oven to 200°C.
Combine ground beef, breadcrumbs, egg whites, parsley, water, garlic, cumin, salt and pepper in large bowl, mixing lightly but thoroughly.
Shape into 12, 2-inch meatballs.
Thread meatballs onto 4. 10-inch skewers. Place on rack in broiler pan that has been sprayed with cooking spray. Bake in 200°C oven 24 to 27 minutes.
Remove meatballs from skewers. Serve in flatbreads. Garnish with toppings, as desired.
Wash hands with soap and water before cooking and always after touching raw meat.
Separate raw meat from other foods.
Wash all cutting boards, utensils, and dishes after touching raw meat.
Do not reuse marinades used on raw foods.
Wash all produce prior to use.
Cook beef until temperature reaches 65°C for medium rare steaks and roasts 70°C for ground beef.
Refrigerate food promptly.
OTHER RECIPES YOU MAY LIKE