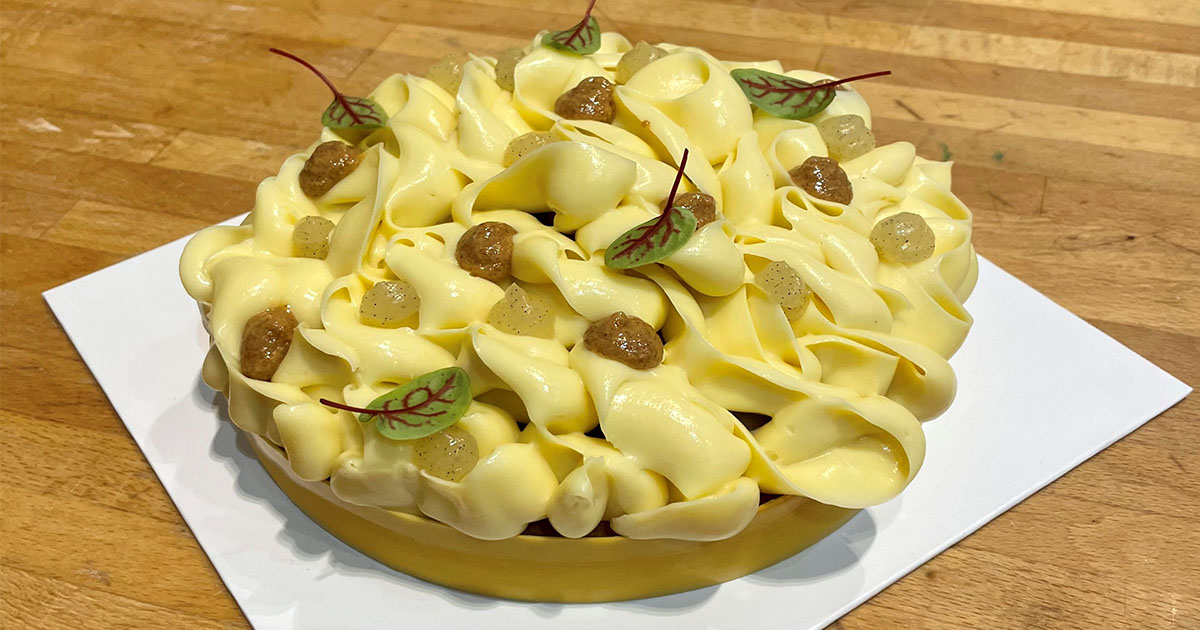 Gluten-free lemon cake

280 g whole eggs
170 g cream
350 g sugar
125 g rice flour
50 g cornflour
125 g corn starch
1 g Xanthan gum
17 g baking powder
115 g butter
4 g lemon zest
1 g vanilla seed
Almond praliné
240 g roasted almonds
160 g sugar
14 ml grapeseed oil
Lemon gel
200 ml lemon juice
50 g sugar
5 g Agar-agar
0.6 g vanilla seeds
Olive oil crémeux

128 milk
128 ml cream
250 g white chocolate
50 g egg yolk
26 g sugar
30 g gelatine mass
16 ml olive oil
Gluten-free lemon cake

Mix liquids and powders with the hand blender, and add melted butter towards the end.
Bake your cake at 170°C for 20 mins.
Almond praliné
Roast your almond while you prepare the dry caramel.
Mix the ingredients all together in a thermomixer while adding oil.
Lemon gel
Combine the ingredients.
Use a sauce pan and bring to boil.
Let the mixture cool down overnight, and then process it with a hand blender.
Olive oil crémeux

Make a crème Anglaise.
Add chocolate, gelatin mass, and olive oil and let it set overnight.
Assembly
Place the cake on a serving plate. Spread the lemon gel, then the olive oil crémeux.
Top with lemon gel.  Refrigerate until serving time.