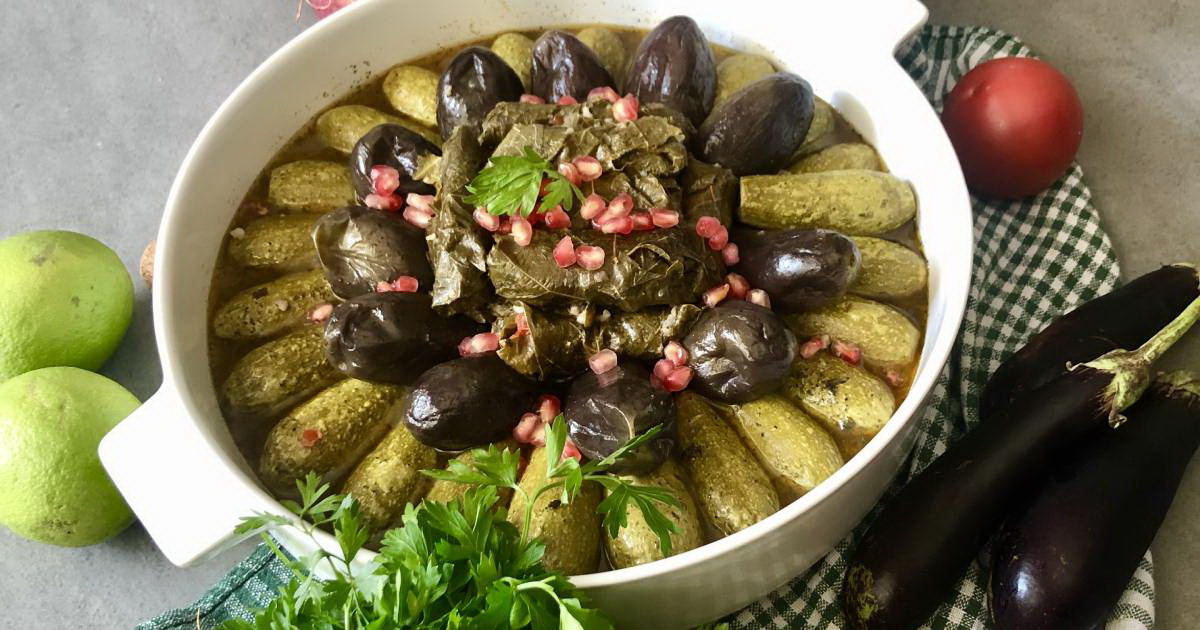 1kg little holed zucchini
800g little holed eggplants
30 pieces grape vine leaves
1.5 soaked rice (Egyptian or Italian)
Bunch minced cut parsley
1 can smoked cooked hummus beans (chickpeas)
3 medium red diced tomatoes
1 large diced onion
2 juiced lemon
3 tbsp olive oil
Pomegranate molasses
Salt/ Pepper
Mix together the rice, parsley, tomato, onion, chickpeas, lemon juice and olive oil.
Strain while saving the sauce in a bowl.
Stuff the mixture in the holed zucchini, eggplants and in the grape vine leaves.
Roll them up closing them perfectly on the sides.
Stack the stuffed vine leaves at the bottom of the cooking pan and over it the eggplant and the zucchini, pour over the strained sauce and add some water to it.
Bring to boil then cook on low fire for about 45 mins.
Pour over the juice of 1 more lemon mixed with 1 tbsp of pomegranate molasses season with salt to your personal taste and let it cook for another 15 mins.
Turn off the fire and let rest in pan for at least 1h. The more you let it rest in its sauce before consuming it the tastier it gets.
Serve warm or room temperature.