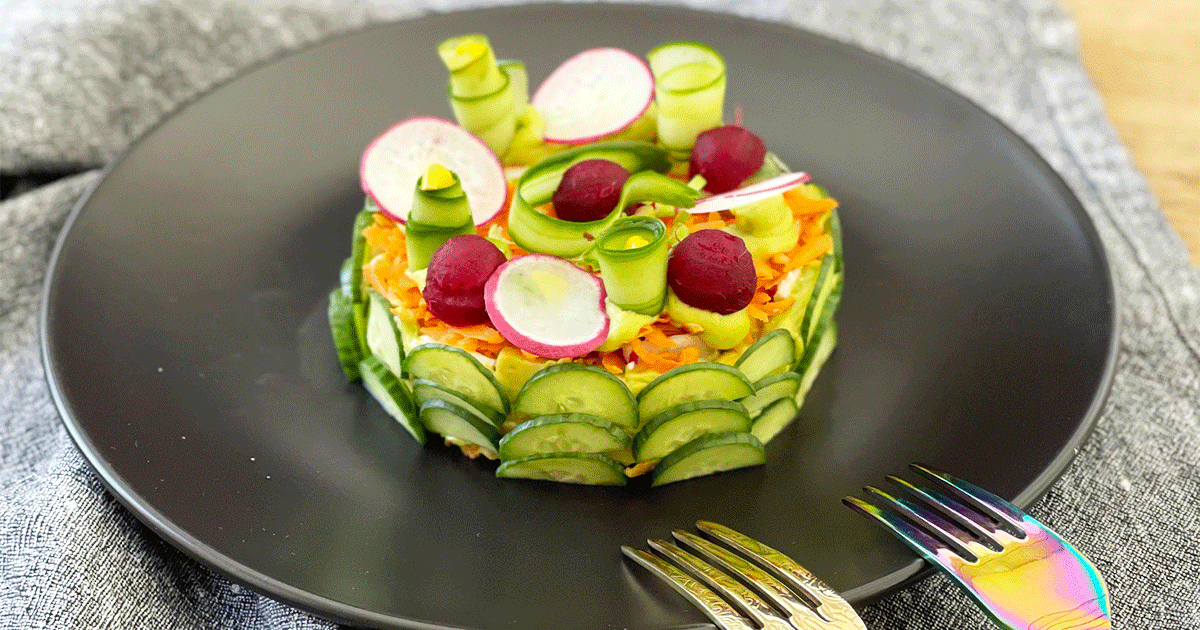 1 avocado diced
1 carrot shredded
2 cucumbers cut into thin rings
1 green onion shredded
1 radish shredded
Feta cheese cut into small cubes
Mint
1 tbsp. corn
1 beetroot cooked cut into small spheres
Avocado mayonnaise 
1 avocado
½ lemon
Salt
Hint of chili flakes
Avocado mayonnaise
Combine all ingredients in a food processor, blend until very smooth. Use water to adjust consistency as required.
Mash the avocado and mix it with lemon and seasoned with salt, a hint of chili flakes.
Salad cake
Line the bottom of a ring mold with a layer of cucumber slices and fill it with your vegetables. Press with a tablespoon to get a compact shape, then gently remove the ring mold.
Top the salad cake with the avocado mayonnaise and decorate with cucumber roll-ups, radish and beetroot.
The beets should be cooked until tender, and the skin easily releases from the peel. Cooking the beets with the peel on is the most effective way to reduce the loss of pigment. It will take around 30 minutes, depending on the size.