شاورما امّي
MOM'S SHAWARMA
SHAWARMA DE MAMAN
وصفات جورجات
BY LES RECETTES DE GEORGETTE
LES RECETTES DE GEORGETTE
لـ ٥ اشخاص
Serves 5
Pour 5 personnes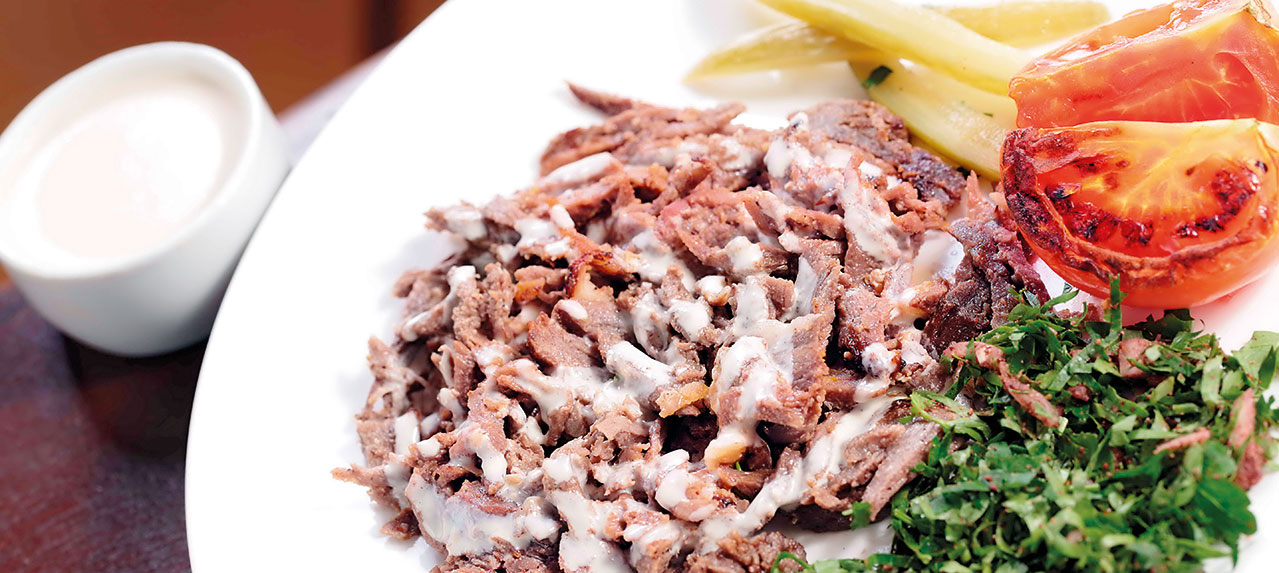 ١ كغ من اللحم البقري
٥٠ جرام من شحم الغنم
نصف كوب من الخل الأحمر
ربع فنجان قهوة
فلفل حلو ، فلفل أسود ، قرفة ، سبع بهارات ، ملح
1 kg beef (tenderloin or sirloin)
50g mutton fat (sheep)
½ glass red vinegar
¼ cup coffee
Sweet pepper, black pepper, cinnamon, seven spices, salt
1 kg de bœuf (filet ou aloyau)
50g de graisse de mouton
½ verre de vinaigre rouge
¼ tasse de café
Poivron, poivre noir, cannelle, sept épices, sel
١. يُقطع اللحم إلى شرائح ، ثم يُنقع في الخل والتوابل لمدة ساعتين تقريبًا. من ثمّ يحفظ جانباً
٢. حمّر اللحم على الوجهين في مقلاة نونستيك. ثم أخرج اللحم من الحرارة وقطع عامودياً على ألياف العضلات، بطول ٥ إلى ٦ سم وعرضها ١ سم
٣. في وعاء كبير، ذوّب شحم الغنم، واضف مياه النقع
٤. يُغطّى المزيج ويُغلى ثم يُخفّف النار ويُطهى على نار خفيفة لمدة تتراوح بين ٤٥ و ٥٠ دقيقة حتى ينضج اللحم
٥. يقدم مع الخبز اللبناني ، مصحوب بصلطة الطراطور ، الحمص والفجل ، النعناع الطازج ، الطماطم ، البقدونس المفروم والبصل
1. Cut the meat into slices, then marinate in wine, vinegar and spices for about 2 hours. Remove meat from marinade and reserve.
2. Sear the meat dry on two sides in a nonstick skillet. Then remove the meat from the heat and cut perpendicularly to the muscle fibers, thin strips 5 to 6cm long and 1cm wide.
3. In a large pot, melt the mutton fat, add the meat and juice marinade.
4. Cover and bring to a boil then reduce heat and simmer 45 to 50 minutes until the meat is cooked.
5. Serve with Lebanese bread, accompanied by tarator sauce, hummus and radish, fresh mint, tomatoes, chopped parsley and onions.
1. Couper la viande en tranches, puis laisser mariner dans le vinaigre et les épices pendant environ 2 heures. Retirer la viande de la marinade et réserver.
2. Saisir la viande des deux côtés dans une poêle antiadhésive. Ensuite, retirez la viande du feu et coupez-la perpendiculairement aux fibres musculaires en fines lanières de 5 à 6 cm de long et 1 cm de large.
3. Dans un grand chaudron, faites fondre la graisse de mouton, ajoutez la marinade de viande et de jus.
4. Couvrir et porter à ébullition puis réduire le feu et laisser mijoter 45 à 50 minutes jusqu'à ce que la viande soit cuite.
5. Servir avec du pain libanais, accompagné d'une sauce "tarator", d'houmous et de radis, de menthe fraîche, de tomates, de persil et d'oignons hachés.