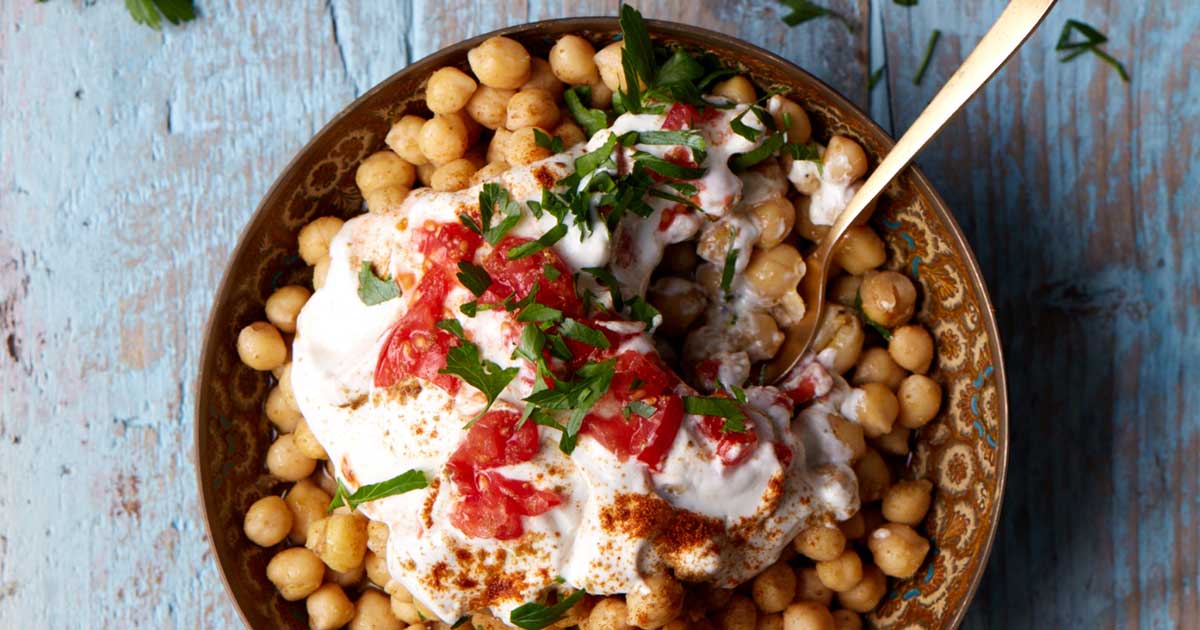 200g dried chickpeas
2tsp bicarbonate of soda
200g Greek yogurt
50g tahini
3 garlic cloves, crushed
2 tsp ground cumin
100ml olive oil
Juice of 1 lemon
1 tsp salt
½ tomato, finely chopped
A little freshly chopped parsley
Paprika, to season at the end
1. The night before or up to 8 hours ahead, spoon the dried chickpeas into a bowl overnight in cold water.
2. The next day, drain the chickpeas, add the bicarbonate of soda then cover with cold water again. Leave to one side for 30 minutes.
3. After the time is up, drain the chickpeas again then tip into a medium to large pan and cover with cold water. Cover the pan with a lid, bring to the boil, then reduce the heat and simmer uncovered for 40 minutes.
4. Meanwhile, make the sauce. Mix the yogurt and tahini in a large bowl with half the garlic. If it's very thick, add a little water to thin it down.
5. Drain the chickpeas and put into a bowl. Add the rest of the garlic, cumin, 50ml olive oil, lemon juice and the salt.
6. Mix all the ingredients together, making sure the chickpeas are coated well with all the seasonings, oil and lemon juice. Spoon it into the serving dish. Drop all the sauce over the top, add the rest of the olive oil (the other half) and dash over paprika and cumin over the top to garnish.