MUHAMMAR DIP PLATED IN A SUNFLOWER
Serves 6-10 | Fermentation 4 days | Cooking time: 30min
Fermented tomatoes
500g tomatoes cut in four
10g non-iodized salt
Semi dried charred red bell peppers
300g red bell peppers
50g ponzu
Lemon grass oil
200g lemon grass
400g grapeseed oil
Muhammar dip
150g semi-dried bell peppers
300g lacto-fermented tomatoes
10g ponzu
Miso toasted sunflower seeds
15g miso
20g water
100g sunflower seeds
Crackers
300g flour
15g sesame seeds
7g salt
145g water
13g olive oil
Fermented tomatoes
Place the tomatoes and salt in a vacuum bag. Shake the bag well so that the salt is equally spread. Vacuum the bag (the bag should be half filled).
Place the bag in a warm place (25 to 30

°C

) for three or four days to ferment.
When the bag expands into a pillow shape, it is ready. Open the bag and taste the tomatoes. They should be tangy with a floral note.
Strain the tomatoes to separate the liquid from the skin.
Semi-dried charred red bell peppers
Brush the bell peppers with oil and barbecue directly on charcoal until cooked and charred.
Place in a covered container and let the peppers steam. Peel the bell peppers and semi dry them while brushing them with ponzu sauce.
Lemon grass oil
Blend the lemon grass and oil for three minutes in the blender.
Place in a vacuum bag and cook in the sous vide at 60

°C

for one hour.
Take from the sous vide and let it infuse in the fridge overnight.
Strain and use.
Muhammar dip
Place all the ingredients except the oil in a blender. Blend until fine, then start adding the oil. The mixture will have a fluffy, airy texture.
Miso toasted sunflower seeds
Mix miso and water, then toast the seeds in the mixture. Make sure they are well coated.
Place on a baking sheet and cook at 170

°C

for 20 minutes.
Crackers
Place the flour, seeds and salt in a mixing bowl. Add the olive oil and stir with a fork.
Add water and mix. When the water is absorbed, place the mixture on a clean work surface and knead the dough gently into a smooth ball.
Add a little more water if the dough feels too dry. The consistency should neither be sticky nor tacky.
Divide the dough into eight pieces, cover with a kitchen towel and flatten it into an oval disk between the palms of your hands.
Set a pasta roller on the widest setting, and slip the disk of dough in the roller to thin it out. Fold the strip of dough in half so the two short sides meet, and slip the dough into the roller again, fold in first.
Repeat three or four times until the dough feels supple. You are essentially kneading the dough in the process.
Keep rolling on the pasta machine until the number six setting. Score the sheets of dough into square or triangular pieces so they are easier to break off. Deep fry at 180°C.
Assembling
With a spoon, clean the inside of the sunflower.
Place the muhammar dip topped with sunflower seeds and crackers on the side.
SERVE WITH
Korai Rosé 2020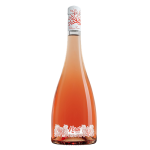 OTHER RECIPES YOU'LL ENJOY