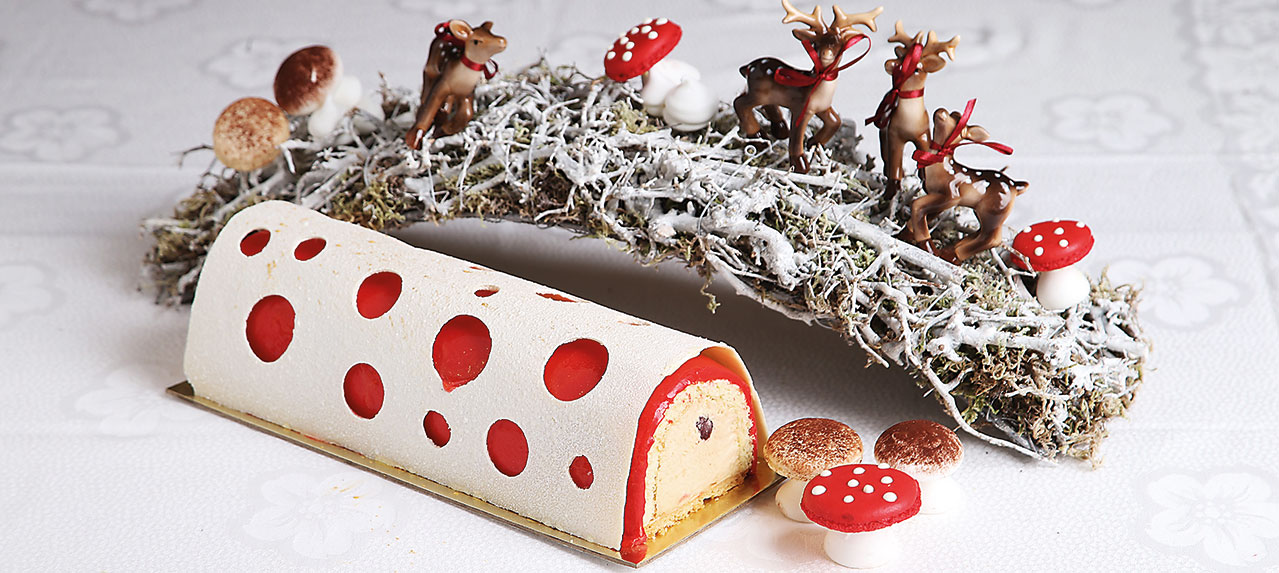 For the pears:
1/2 Bottle of wine
50g Honey
3 Pears
Cloves
Zest from 1 lemon
1/2 Vanilla Stick
1 pc cinnamon stick
1 Star anise
2g black peppercorns
2 Bay leaves
For the shortbread biscuit:
77g Flour
1g Salt
62g Butter
52g Sugar
25g Egg yolk
3.5g Baking powder
For the sponge:
3 Egg yolks
60g Sugar
1g Vanilla
2g Gingerbread spices
60g Flour
For the mousse:
7g Gelatin
60g Egg yolks
200g Milk
100g Sugar for the caramel
250g Cream
2.5g Salt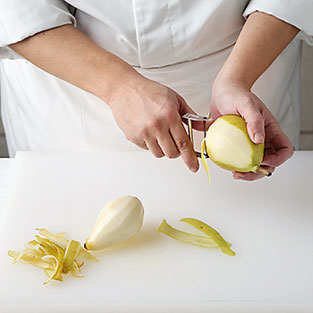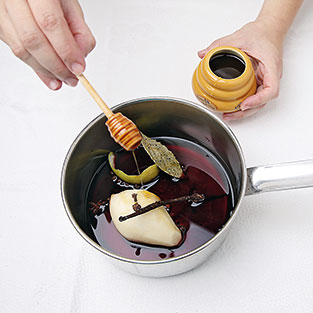 2. Add them to the ingredients for the pear syrup. Bring to boil. Cover the pot, lower the heat and let it simmer till cooked.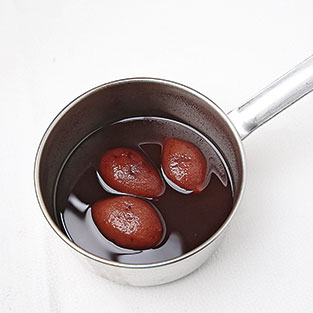 3. Let the pears marinate in the syrup for 24 hours in the refrigerator. Reserve the syrup after removing the pears.
For the shortbread biscuit: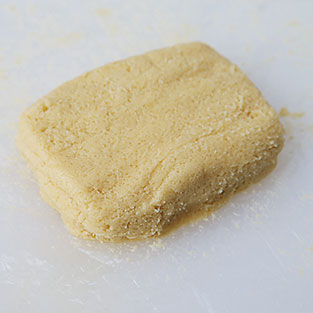 1. Beat the butter with the sugar until the mixture is smooth and airy. Add egg yolk and continue beating. Fold in the flour, baking powder and salt. Form a dough.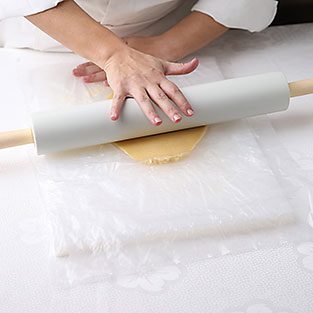 2. Spread the mixture in between two pastry sheets or wax paper. Roll it out till it becomes flat.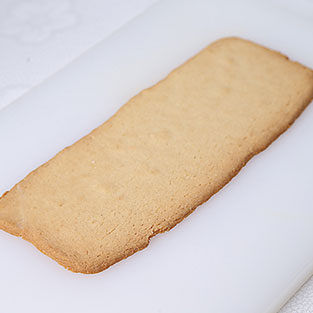 3. Bake at 180°C until golden.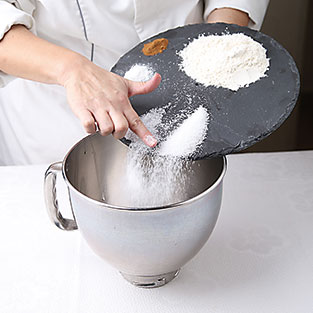 1. Beat eggs and sugar till the mixture is light and airy. Fold in the flour while mixing.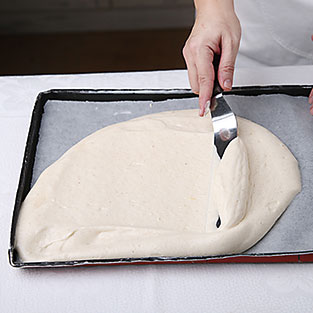 2. Pour in a prepared pan, spread the mixture to even it out.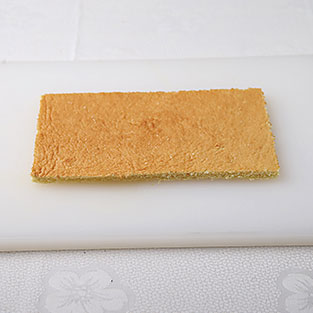 3. Bake at 180°C until golden.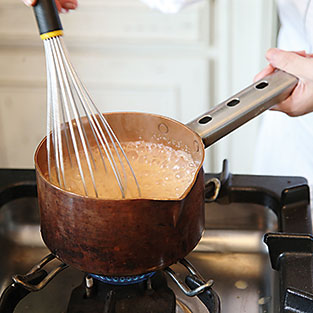 1. Pour 75g of sugar into a pot and turn it into caramel. While making the caramel, place egg yolks, 25g sugar and whisk till the mixture is light and airy. Boil the milk and gently add it to the mixture. Take this mixture and pour it into the caramel. Continue whisking on a low flame. After it thickens cool the mixture in an ice bath.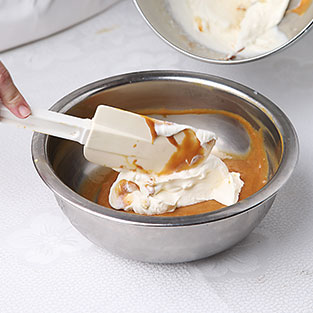 2. Soak the gelatin in water and add it to the lukewarm caramel mixture. Meanwhile, whisk the cream until soft peaks form. Add the cream to the caramel mixture in three stages and mix to form the mousse.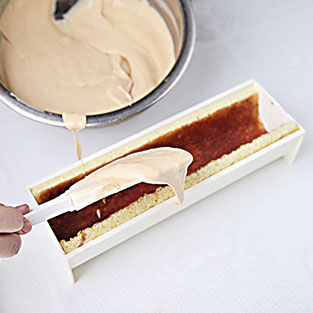 3. Dice the wine soaked pears. Place the sponge in a circular mould and brush the inside with the pear syrup.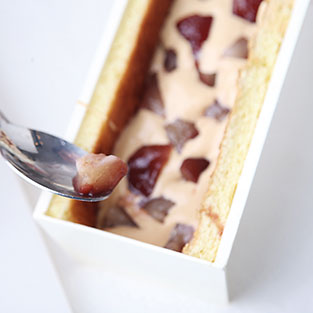 4. Add a layer of caramel mousse and top it with the diced pears. Repeat the process until the top of the mould.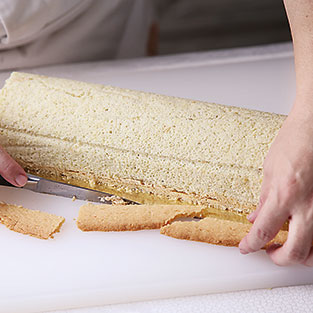 5. Straighten the surface of the mould and freeze until it hardens. Place the hardened bûche on the shortbread biscuit and cut the edges to fit.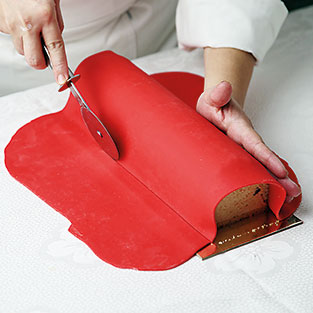 6. Roll out the red fondant and cover the bûche.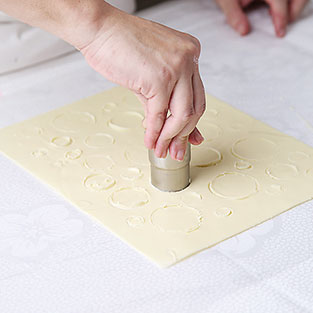 7. Pour 125g of white chocolate on parchment paper. Flatten out and make holes in different sizes.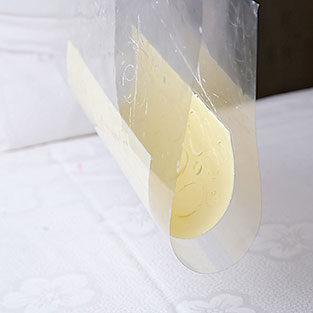 8. Grip both sides of the paper and hold it in place till the circular shape forms.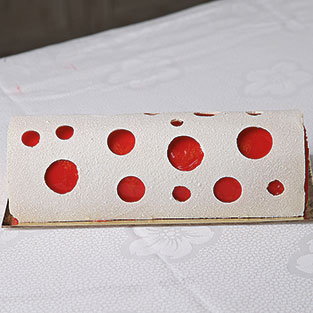 9. When the chocolate hardens place it on the bûche. Decorate with mushroom shaped macarons.