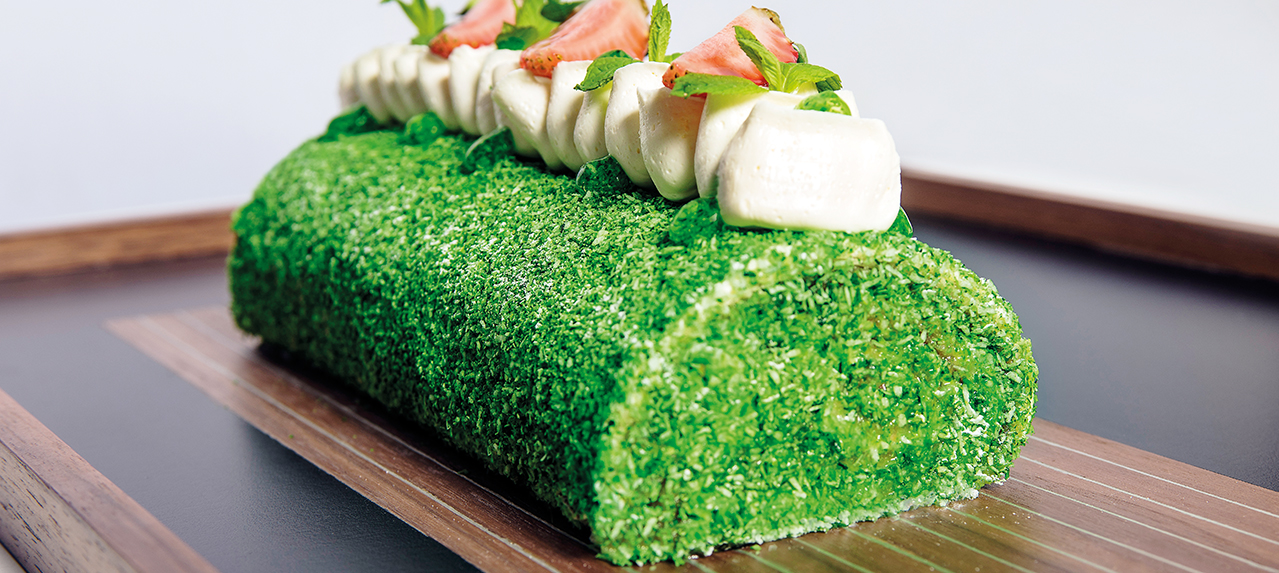 White Genoise(Sponge)
• 120g flour
• 7 eggs
• 150g granulated sugar
• 5g vanilla aroma
Butter Cream
• 50g fresh milk
• 1 egg
• 50g granulated sugar
• 300g butter
• 5g vanilla aroma
Oriental Buche
• 1 pcs white genoise
• 250g strawberry jam
• 500g ashta
• 200g butter cream
• 3 mint leaves
• 1 pc white chocolate
• 100g green coconut powder
• Fresh strawberries
1. Beat the eggs, sugar and vanilla aroma until it doubles in size. Sieve the flour. When the egg doubles in size, put the flour and mix by hand slowly until no flour residue is seen.
2. Spread the genoise. Bake in a convection oven at 220°C for 5 minutes. Reserve in the freezer. Put the milk, eggs and granulated sugar in a saucepan on heat. Wisk until the temperature of the mix reaches 85°C. Put the mixture in a mixing machine and whisk.
3. Add the vanilla aroma. When the mixture is cold, put the butter and beat well until you get a homogenous white creamy mixture. Spread the strawberry jam over the genoise.
4. Spread the ashta on top of the strawberry jam. Roll the bûche and reserve in the freezer for 3 hours. Spread butter cream over the genoise. Add the coconut powder over it. Decorate with butter cream, fresh strawberry, mint and chocolate decoration.