By Nicolas Boussin, Best Pastry Craftsman 2000
Executive Pastry Chef at La Maison de l'Excellence Savencia®
Serves 20 pieces | Prep/baking 60 mins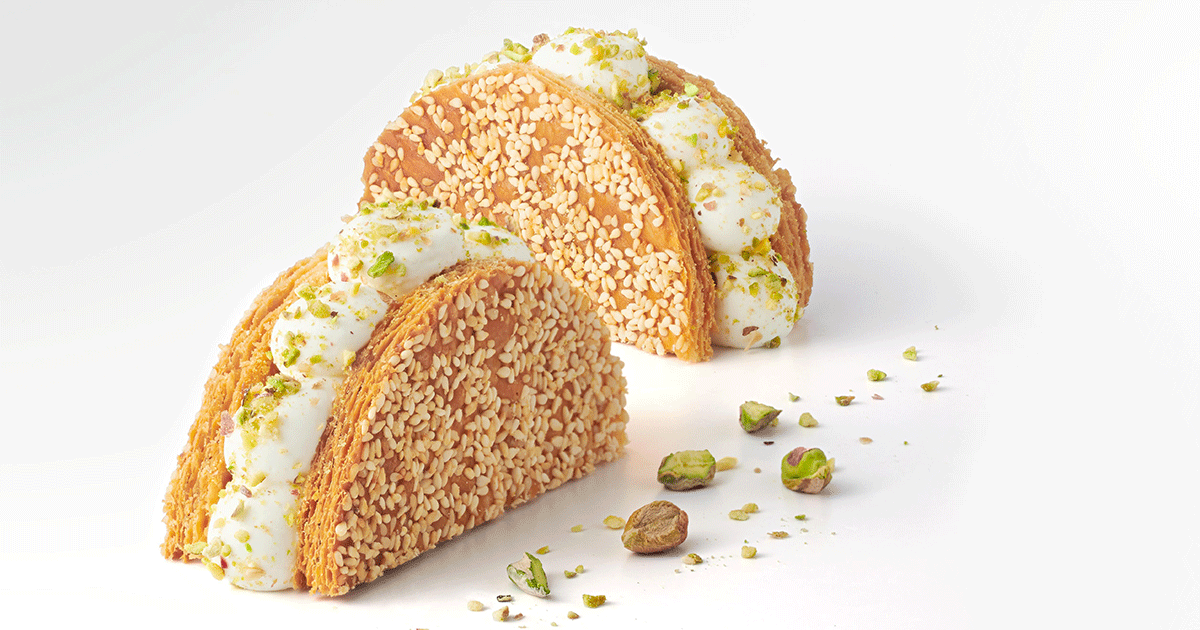 PUFF PASTRY
940 g plain flour (T55, approximately 11% protein)
310 g strong flour (T45, approximately 14% protein)
25 g salt
125 g extra-dry butter sheet Elle & Vire Professionnel®
25 g vinegar
500 g water
1000 g extra-dry butter sheet Elle & Vire Professionnel® 
PASTRY CREAM
365 g milk
85 g egg yolks
75 g sugar
17 g plain flour (T55, approximately 11% protein)
17 g custard powder
DIPLOMAT CREAM
430 g soft style cream cheese Elle & Vire Professionnel®
430 g pastry cream
50 g gelatine mass (7 g powdered 2000 bloom gelatine + 43 g water)
20 g orange blossom water
285 g  35% whipping cream Elle & Vire Professionnel®
PISTACHIO CARAMEL
100 g soft style cream cheese Elle & Vire Professionnel®
250 g 35% whipping cream Elle & Vire Professionnel®
220 g sugar
35 g glucose
50 g gourmet butter Elle & Vire®
60 g pistachio paste
DECORATIVE CREAM
100 g soft style cream cheese Elle & Vire Professionnel® 
35 g milk
35 g sugar
26 g gelatine mass
325 g  35% whipping cream Elle & Vire Professionnel®
ASSEMBLY
QS icing sugar
QS butter
130 g sesame seeds
QS raw pistachios
QS ground pistachios
PUFF PASTRY
Using the dough hook of the stand mixer, combine the two types of flour, butter and salt while slowly drizzling in the vinegar and water.
Form into a ball and let rest in the refrigerator.
Roll out the dough, inserting and enclosing the sheet of butter in it. Give it its turns (see in assembly).
PASTRY CREAM
Prepare a traditional pastry cream.
DIPLOMAT CREAM
Stir the pastry cream and warm slightly. Add the dissolved gelatine mass and orange blossom water, followed by the cream cheese.
Finish off by gently folding in the whipped cream.
PISTACHIO CARAMEL
Heat the cream with the glucose. Prepare a dry caramel with the sugar and deglaze with the hot cream mixture.
Heat to 108°C. Add the butter at 40°C along with the pistachio paste and cream cheese then blend using a hand mixer.
Refrigerate.
DECORATIVE CREAM
Bring the milk and sugar to the boil.
Add the gelatine mass and cream cheese. Blend using a hand mixer while adding the chilled cream.
Refrigerate for at least 4 hours (ideally overnight).
ASSEMBLY
Perform 5 turns respecting the resting time in between and using ice for the final 3. Roll out to a thickness of 2 mm. Cut into Ø12-cm circles.
Using a brush, coat one side of the circle with melted butter.
Sprinkle with sesame seeds and then with icing sugar.
Turn the circles over onto a sheet of baking paper (sesame side down). Top with another sheet of baking paper and place an aluminium baking sheet on top.
Bake in a 170°C convection oven for approximately 25 minutes.
Remove from the oven and immediately cut the circles again, using a Ø10-cm cookie cutter.
Pipe out 50 g of diplomat cream into each Flexipan and place in the freezer. Unmould and cut in half.
Pipe out 20 g of pistachio caramel onto a circle of pastry, leaving 0.5 cm bare around the edge (smooth side) then cut the circle in half.
Affix a half disc of diplomat cream on a semicircle of pastry (pistachio caramel side) and top with the second semicircle of pastry. Using an 8-mm plain tip, pipe out 7 balls of decorative cream (approximately 25 g).
Decorate with pieces of raw pistachio and ground raw pistachio.
OTHER RECIPES BY ELLE & VIRE