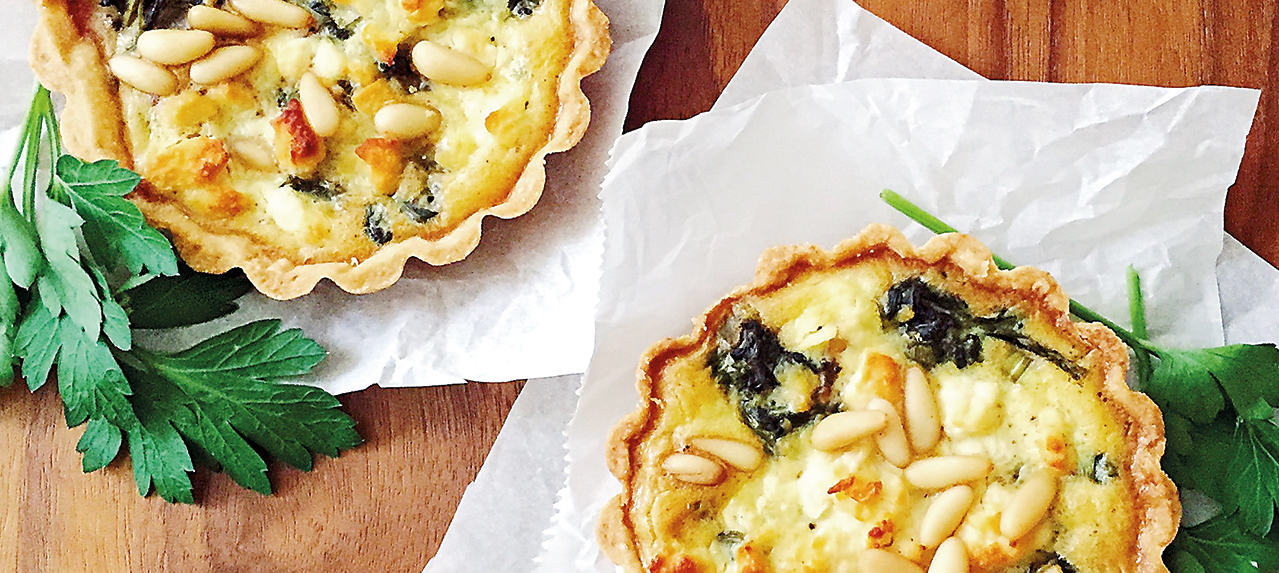 1 store-bought ready to use piecrust
1 tsp extra virgin olive oil
⅓cup onion, finely chopped
300g fresh baby spinach
2 tbsp scallions, finely chopped
¼ cup fresh parsley, finely chopped
2 tsp ground sumac
¼ tsp ground allspice
½ tsp lemon zest, very finely grated
3 eggs
½ tsp salt
¼ tsp ground sumac
¼ tsp ground allspice
¾ cup (180 ml) heavy cream
¾ cup (180 ml) milk
150g crumbled Feta cheese
½ cup pine nuts
1. You will need a tart dish (with removable bottom) or individual small tart pans, parchment paper, pie weight (you can use dried beans), a medium pan, a medium bowl and a wire rack (for cooling).
2. Scale and prep all the ingredients. Heat the oven to 200°C.
3. Heat the olive oil in a pan over medium high heat. Add the chopped onion and let it cook until lightly caramelized. Lower the heat to medium, add the spinach and let cook down until all the water has evaporated. Remove from the heat and add the scallions, parsley, sumac, allspice and lemon zest. Mix well, taste to correct seasoning and set aside.
4. Roll out the store-bought piecrust on a lightly floured surface. Transfer to the tart pan and press the dough around the rim to form a homogenous and pretty edge.
5. Line the dough with parchment paper and fill with pie weights (or dried beans). Bake until the crust is dry, about 15 minutes. Remove from the oven and lift out the weights and parchment paper.
6. Reduce the oven temperature to 180°C. Arrange the spinach mixture evenly in the pre-baked crust, sprinkle with the crumbled Feta cheese.
7. In a large bowl, whisk together the eggs, ½ teaspoon of salt, ¼ teaspoon of each ground sumac and allspice, the cream and milk until well blended.
8. Slowly pour the egg mixture over the spinach in the crust. Dot the top with pine nuts. Bake until the top is lightly browned and the filling is just barely set, for around 45 minutes. Transfer to a wire rack and let stand for 10 minutes. Serve warm.