OUZI WITH HONEY AND CARDAMOM GLAZE
Serves 12 persons | Prep/cooking 45 mins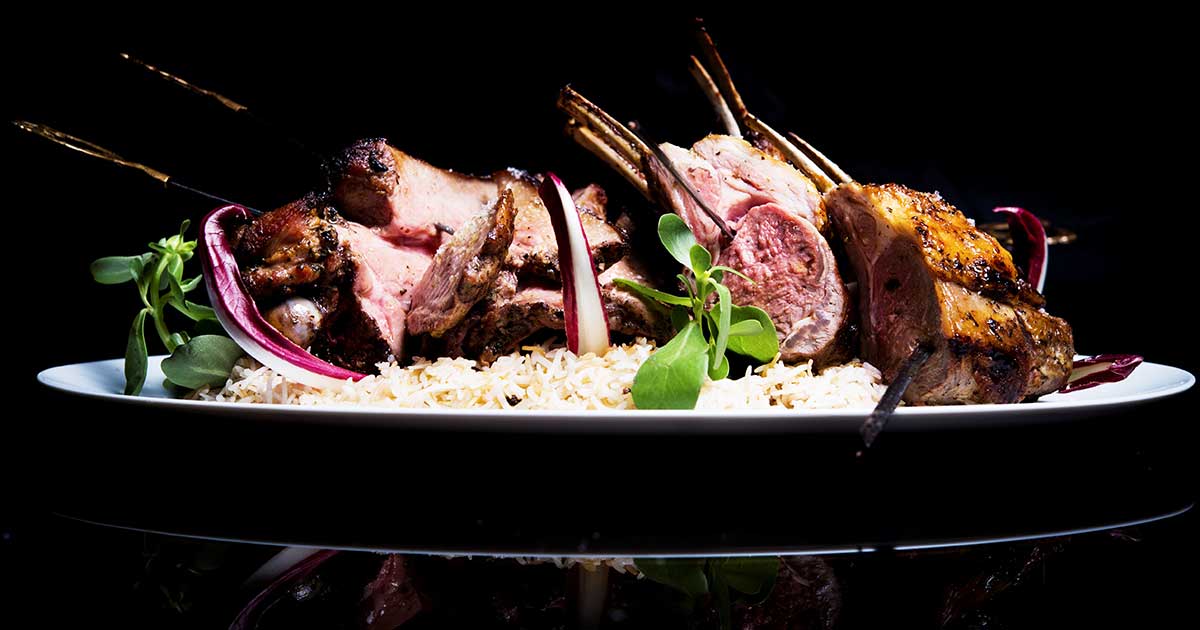 2 x 1 kg Milk-fed lamb legs with shank (cut at ball joint)
2 x 1 kg Milk-fed lamb shoulders (frenched)
2 x 8 Milk-fed lamb racks from the neck end (frenched)
Black pepper
5 Garlic cloves crushed with ½ teaspoon sea salt
1 tsp Sea salt
1 Lemon zest and juice
1 tsp Ground cardamom seeds
1 cup Fresh oregano leaves, finely chopped
4 tsp Dried Greek oregano, crumbled
4 tsp Organic honey
330ml Olive oil
1 Brown onion, finely diced
150g Minced lamb
650g Short-grain rice
1l Chicken stock
1 Cinnamon stick
1 tsp sea salt
1 tsp cracked white pepper
60g Blanched almonds
60g Shelled pistachio nuts
60g Pine nuts
1 ½ cups Coriander sprigs
Thick yoghurt
1. To make the marinade, mix all the ingredients together to make a sloppy paste.
2. Rub it over all the pieces of lamb and leave them to marinate overnight. The easiest way to do this is to put them into large snaplock bags; that way you can massage the marinade into the meat from time to time and turn them around, without getting messy.
3. When you're ready to start roasting, preheat the oven to 140ºC.
4. Pour a generous slug of olive oil into a large, heavy-based roasting tin. Set over a medium–high heat and brown the lamb pieces all over. You'll probably need to do this in batches.
5. Arrange the shoulders and legs on a rack set into the roasting tin and season with salt and pepper. Lift the tray into the oven and carefully fill it half-full with warm water. Roast for 1–1 1/4 hours, basting every 20 minutes or so.
6. At this point, season the 2 lamb racks with salt and pepper, put them in another roasting tin, and roast them alongside the legs and shoulders for another 1 1/4 hours, basting all the lamb pieces regularly. After this time all the meat should be very tender to the touch.
7. Remove both trays from the oven, cover loosely with foil and leave to rest in a warm place. (If quick-cooking, then preheat the oven to 200ºC, roast the shoulders and legs for 1 hour and the racks for 15–20 minutes.)
8. While the lamb is roasting prepare the nut-rice.
9. Heat a tablespoon of olive oil in a large heavy-based casserole or saucepan. Add the onions and minced lamb and fry over a medium heat for around 4 minutes, or until the onions are softening and the meat has browned.
10. Stir in the rice, then pour in the boiling chicken stock. Turn the heat down to a simmer and add the cinnamon stick, salt and pepper. Cover the pan and cook for 16 minutes.
11. Fry the nuts separately in the rest of the olive oil until they are golden brown. Take care with the pine nuts as they can burn quickly. Drain on kitchen paper.
12. When you're ready to serve, pour the juices from the roasting tins into a small saucepan and bring to a boil. Stir in the garlic paste and lemon juice and keep at a simmer.
13. Carve the shoulder and leg meat into slices and cut each of the lamb racks into quarters.
14. Turn the rice out onto a large serving platter and sprinkle on the nuts. Arrange the meat on top of the rice. Pour the simmering sauce over the lamb and scatter on the coriander. Serve with thick yoghurt and a selection of salads.