Serves 1  | Preparation Time 6 mins  | Cooking Time 19 mins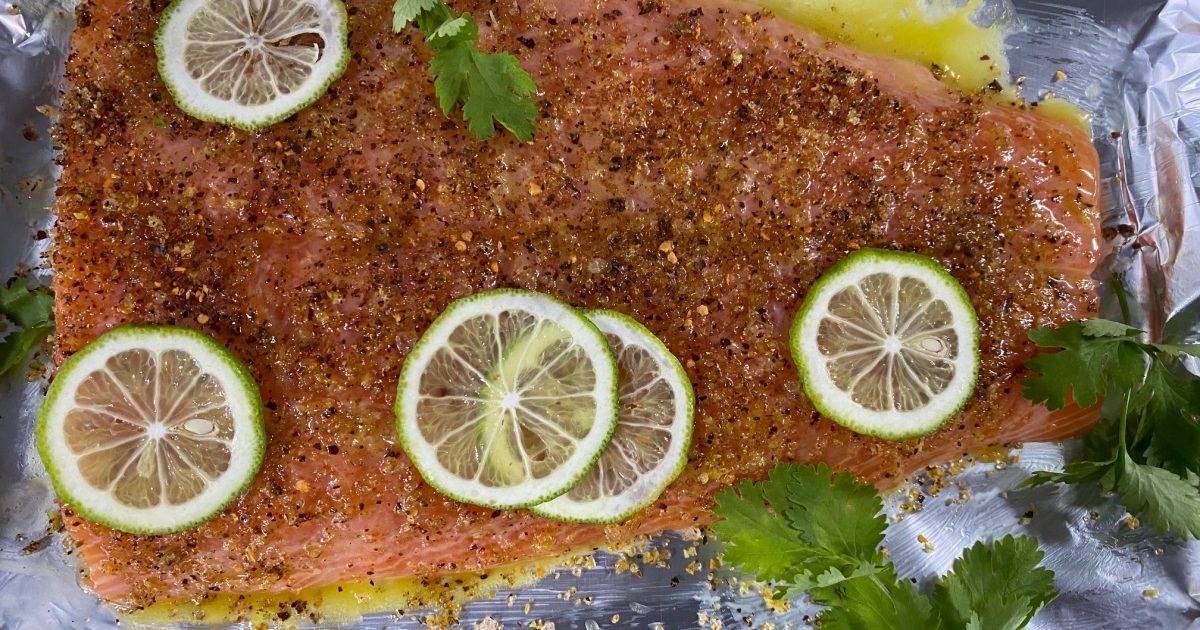 • 800 g fresh salmon
• 1 tbsp brown sugar
• 1.5 tsp chipotle chili powder
• 1 pc lime zest (of 1 lime)
• 1 tbsp lime juice
• 1.5 tsp kosher salt
• 1 tbsp extra virgin olive oil
• 3 tbsp chopped fresh cilantro
1. Heat oven to 190 °C. Place a piece of aluminum foil large enough to easily wrap all the way around the salmon in a large baking dish and seal it.
2. Coat the foil with nonstick spray or butter. With paper towels, lightly pat the salmon dry and place it in the center. In a small bowl, stir together the brown sugar, chipotle chili powder, lime zest and salt.
3. Brush the salmon with olive oil and lime juice. Sprinkle with the chipotle seasoning mixture and rubbing to coat the salmon evenly.
4. Fold the sides of the aluminum foil up and over the top of the salmon until it is completely enclosed.
5. Leave a little room inside the foil for air to circulate.
6. Bake the salmon for 16 minutes until the salmon is almost completely cooked through at the thickest part. The cooking time will vary based on the thickness of the salmon.
7. Remove the salmon from the oven and open the foil so that the top of the fish is completely uncovered.
8. Change the oven setting to broil, then return the fish to the oven and broil for 3 minutes until the top of the salmon is slightly golden and the fish is cooked through.
9. Remove the salmon from the oven.
10. Squeeze some lime juice on the salmon, sprinkle with fresh cilantro and serve.

SERVE WITH
Korai Rosé 2019
Red fruits, cranberry
and passion fruit on
the nose, with a touch
of herbal essence,
fragranced with jasmine
and oregano.