Serves 8 pers
Preparation Time 20 mins | Cooking Time 120 mins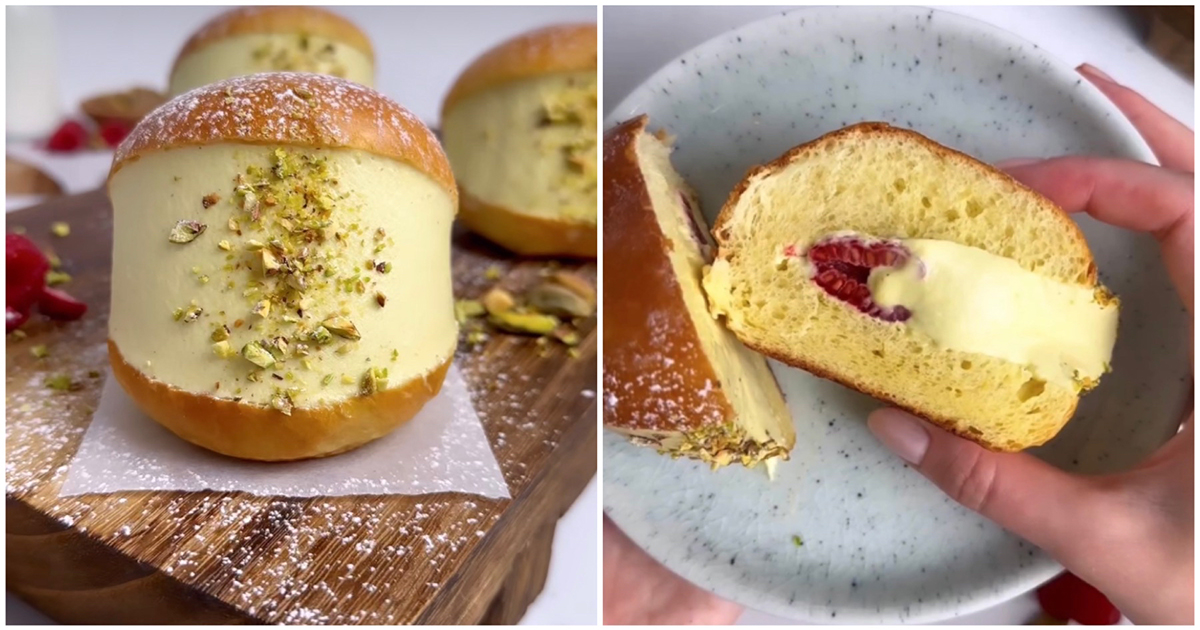 Pistachio white chocolate cream
150 g white chocolate
95 g + 385 g heavy whipping cream
60 g pistachio paste (homemade or store-bought)
Tangzhong
80 g whole milk
20 g bread flour
Main dough
300 g bread flour
42 g sugar
5 g salt
Zest from 1/2 lemon
150 g eggs
7 g instant dry yeast
All the tangzhong
90 g unsalted butter, softened and cubed
+ fresh raspberries
Pistachio cream
Add chopped white chocolate and pistachio paste to a heatproof bowl.
Heat up 95 g of heavy cream until steam starts to appear.
Pour hot cream over the chocolate and let sit untouched for 5 minutes. Stir until smooth.
Add 385 g of cold heavy cream and stir until combined.
Cover with plastic wrap that touches the surface of the cream. Transfer to the fridge for at least 3 hours or overnight.
Tangzhong
Add milk and flour to a pot and heat up over medium heat while stirring.
Once thickened, remove from heat and transfer to a bowl. Cover and cool to room temp before continuing with the main dough.
Make the main dough
Add all ingredients, except butter, including the tangzhong, to the bowl of a stand mixer fitted with a dough hook. Knead for 10 minutes on low-med.
Add cubed, softened butter, one cube at a time. Once all the butter is added, mix for 10-20 minutes until the dough passes the windowpane test.
Proof at 26°C for 90 minutes or until doubled in size.
Shape & bake
Once doubled, divide the dough into 15 pieces and roll into rounds.
Place on a lined baking tray and proof at 26°C for about 45-60 minutes.
Brush with egg wash and bake at 180°C for about 12 minutes. Cool to room temperature.
 Whipped cream
Take the pistachio cream out of the fridge and mix with a hand mixer until light and fluffy.
Assembly
Cut buns in half without cutting all the way through.
Fill each bun with fresh raspberries and pistachio cream.
Sprinkle chopped pistachios and powdered sugar on top. Serve immediately.