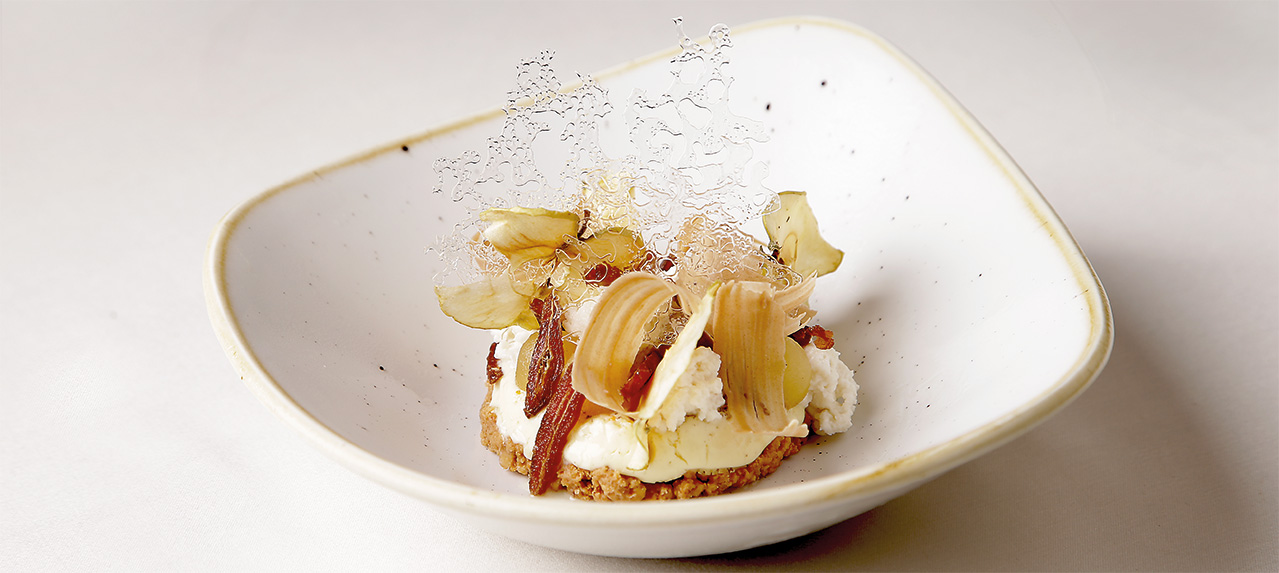 Catalan cream
800g cream
200g fresh milk
200g egg yolks
80g sugar
150g ivoire white chocolate Valrhona
Zest of 4 oranges
Apple dates
400g apples
200g dates
10g lemon juice
1 vanilla pod
1L water
250g sugar
Almond cream
1L fresh milk
360g almond paste 50%
12g gelatine
Butter crispy
65g white chocolate
15g butter
150g almond streuzel
15g brown sugar
20g crispy feuillantine
½ vanilla pod
2g sea salt
Preparation of the Catalan Cream
1. Bring the sugar with the milk, zest and vanilla to boil.
2. Pour the hot liquid over the chocolate.
3. Mix the egg yolks with the cream, and then mix it all together.
4. Pour into a silicone mold of choice and bake at 85°C for 1.5 hours.
5. For the apple dates, using a 'Parisienne', form balls of apple and place them in the water mixed with the lemon juice and vanilla.
6. Add the sugar and bring to boil for 8 minutes.
7. Remove from heat and store in a refrigerator.
8. After 24 hours, cut the dates in stick shapes and mix them with the drained apples.
9. For the almond cream, soak the gelatine sheets in cold water.
10. Heat the milk and add the gelatine to it.
11. Finish by adding the almond paste and mix well.
12. For the butter crispy, mix the streuzel, sugar, feullantine, salt and vanilla.
13. Melt the chocolate and the butter separately, and finish by mixing all the ingredients together.
14. Decorate with Isomalt sugar decoration.