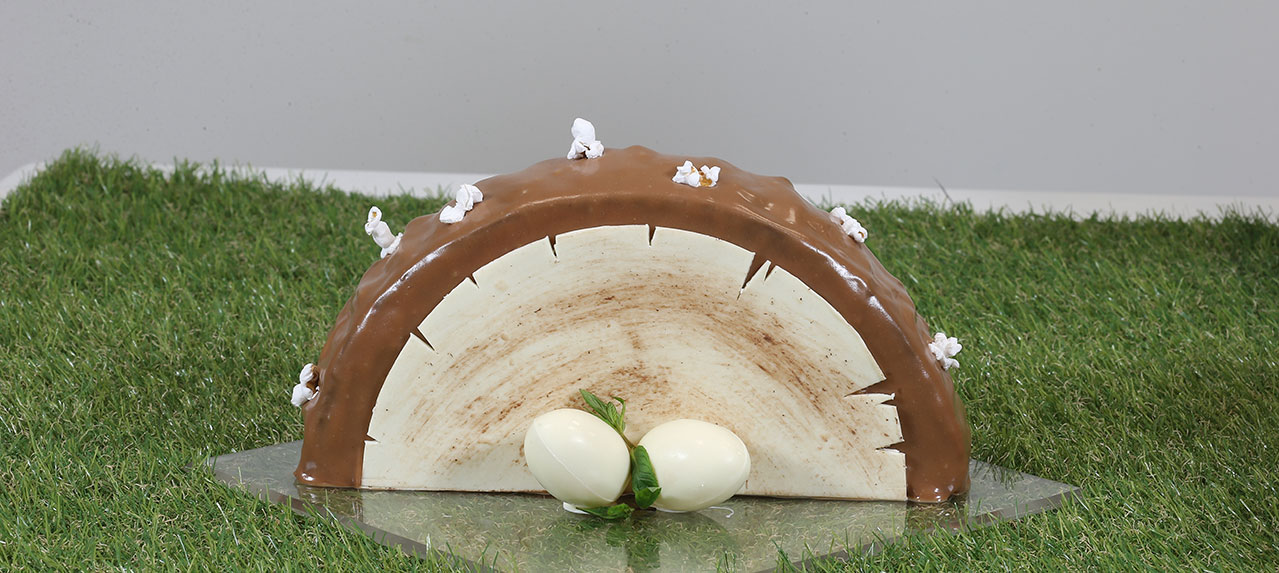 Popcorn biscuit
200g eggs
100g egg yolk
300g sugar
130g crushed popcorn
1 vanilla bean pod
250g butter
200g flour
Popcorn crispy
350g dark chocolate
80g popcorn
150g feuilletine
Popcorn mousse
400g sugar
1 vanilla bean
300g whole milk
100g popcorn
100g eggs
38g gelatin (100g gelatin powder with 600g water)
350g whipped cream
Soft salted caramel
150g sugar
2 vanilla beans
3g salt
350g butter
150g fresh cream 35% fat
Choco-caramel glaze
330g fresh cream 35% fat
50g sugar syrup
100g cocoa butter
55g gelatin (100g gelatin powder with 600g water)
250g milk chocolate
Popcorn biscuit preparation
1. Mix eggs, egg yolk and sugar.
2. Mix the flour, the crushed popcorn and the vanilla from the bean with the melted butter.
3. Spread out on big trays, 40×60 cm each.
4. Bake at 170ºC for around 25 minutes. Cut into discs, 20cm in diameter.
---
Popcorn crispy preparation
Melt the chocolate and mix with the popcorn and the feuilletine. Spread out on the biscuit discs.
---
Popcorn mousse Preparation
1. Mix eggs with half of the sugar.
2. At the same time boil the milk with the other half of the sugar and the vanilla from the bean.
3. Add the gelatin and mix it with the eggs. Let it cool down to 35ºC.
4. Mix with the whipped cream and the popcorn.
---
Soft salted caramel Preparation
1. Heat the sugar until it becomes a golden color.
2. Add the liquid cream, the vanilla from the beans, the salt and mix it with the butter.
---
Choco-caramel glaze Preparation
1. Warm the cream, sugar syrup and the cocoa butter.
2. Add the gelatin; pour in the chocolate and mix.
3. Add the popcorn mousse on the biscuit with the popcorn crispy.
4. Add caramel on the mousse and another disc of the biscuit.
5. Place in the freezer until it's frozen.
6. Remove and glaze with the choco-caramel glaze.