POTATO & SPICED MINCED LAMB PIE
Serves 6-8 | Preparation 45 mins Cooking 30 mins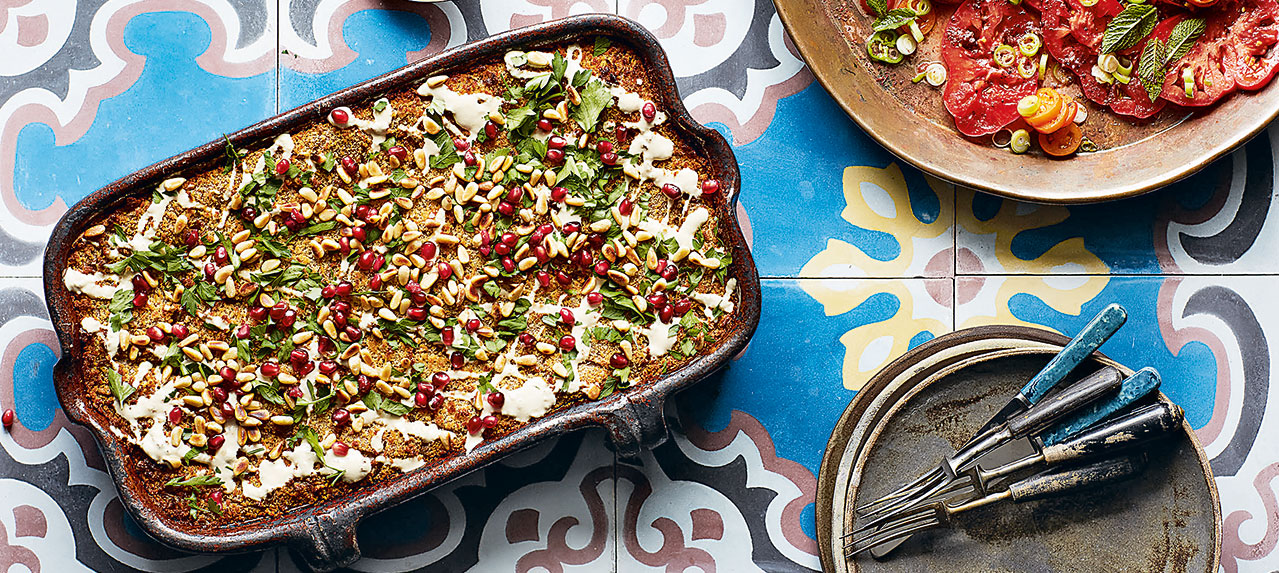 150g fine wholewheat bulgar wheat
3 onions
2kg potatoes, cut into chunks
75g butter or ghee
75ml vegetable oil
200g lamb mince
100g pine nuts, toasted
2 tsp cumin
2 tsp cinnamon
2 tsp Lebanese seven-spice mix
2 tbsp salt
1 tsp white pepper
100g breadcrumbs
To serve
Tahina, to drizzle
Small handful of chopped flat-leaf parsley
Handful of toasted pine nuts
Cinnamon, for sprinkling
1. Cut one onion in half and grate the half, squeezing out any excess juice. Set the other half aside.
2. Put the potatoes in a large saucepan, cover with water and a lid, and bring to the boil. Simmer for 15 minutes until soft.
3. Preheat the oven to 200°C/180°C fan/gas mark 6.
4. While the potatoes are cooking, chop the remaining onions, melt 50g of the butter in a frying pan with 50ml of the oil then cook the onions over a medium heat for about 10 minutes.
5. Add the lamb and continue to cook for 5 minutes. Add the pine nuts, 1 teaspoon each of the cumin, cinnamon, Lebanese seven-spice mix and 1 tablespoon of the salt. Mix well.
6. Drain the potatoes then tip them back into the pan to dry. Mash, then add the bulgar wheat, the grated onion and the remaining spices and salt and pepper. Mash everything together so it's really smooth.
7. Spread most of the remaining butter and oil over a large ovenproof dish. Tip half the breadcrumbs over the base and spread them out. Tip away any that don't stick.
8. Take half the mash and spread it over the base, then wet your hands and flatten the potato. Drain the meat mixture of any fat or juices, then spoon over the top.
9. Spread the remaining potato on top and again flatten it with your hands. Make a diamond pattern with a fork on top, pressing down gently on the mash.
10. Spread with the remaining oil and butter. Cover with the remaining breadcrumbs, and again tip away any excess crumbs.
11. Bake in the oven for about 30 minutes until the top is golden.
12. Drizzle over the tahina, scatter with parsley and a generous handful of toasted pine nuts, and sprinkle with cinnamon to serve.