PROFITEROLE CHOC & KUMBAWA
Serves 10 | Prep. Time 60 mins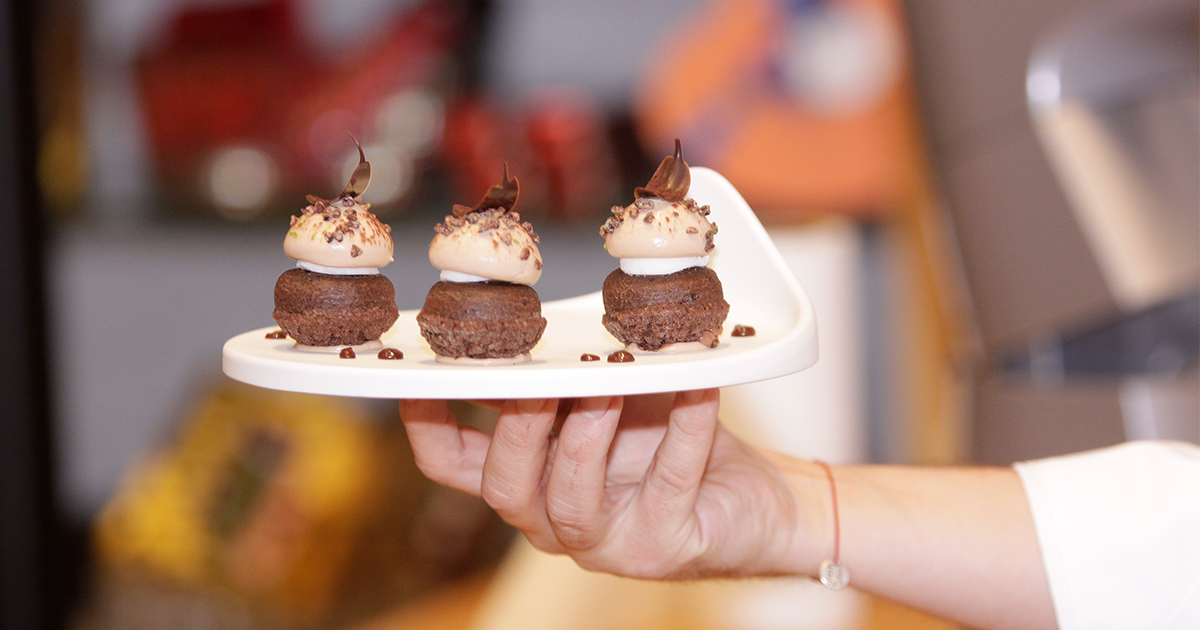 CRUNCHY CHOCOLATE PUFF
95 g butter
115 g Cassonade
100 g flour
15 g cocoa powder
CHOCOLATE PUFF
200 g water
15 g milk powder
30 g cocoa powder
95 g butter
4 g sugar
2 g salt
80 g flour
140 g fresh egg
TANARIVA CHANTILLY
450 g cream (hot)
18 g glucose
18 g Trimoline
750 g Tanariva chocolate
1400 g cream (cold)
80 g kaffir leaves fresh
CHOCOLATE CREAM
500 g cream
500 g milk
200 g egg yolk
100 g sugar
200 g chocolate Caraibe
200 g chocolate Guanaja
2 g lime zest (piece)
SORBET VERBENA WHITE CHEESE
550 g white cheese 40%
750 g water
130 g glucose powder
10 g Pectagel Rose
80 g Kumbawa juice
350 g sugar
2 g lime zest (piece)
CRUNCHY CHOCOLATE PUFF
Mix all the ingredients together.
Roll the paste at 1.5mm between two papers.
After refrigerating it, cut it with the cutter.
Put it on the top of the chou before cooking.
CHOCOLATE PUFF
Boil water, milk powder, cocoa powder, butter, sugar and salt.
Add the flour, mix.
Add the eggs.
Bake at 160°C around 35 mins.
TANARIVA CHANTILLY
Boil the cream, glucose and trimoline.
Add the slice of kaffir leaves and infuse 10 minutes.
Put on the chocolate and created a emulsion.
Add the cold cream.
Mix everything together. Fridge at 4°C for 24h.
CHOCOLATE CREAM
Cooking the cream, milk, egg yolk, sugar, lime zest at 83 °C.
Pour over on the chocolates. Mix everything together.
SORBET VERBENA WHITE CHEESE
Mix the water, sugar, glucose powder, Pectagel Rose and lime zest.
Boil everything together.
Pour over on the Kumbawa juice and white cheese. Mix everything.
Mature for 24h before to put in the machine.