ROAST PUMPKIN, RED ONIONS & SAGE TART
Serves 6 | Preparation time 30 mins Cooking time 1hr 30 mins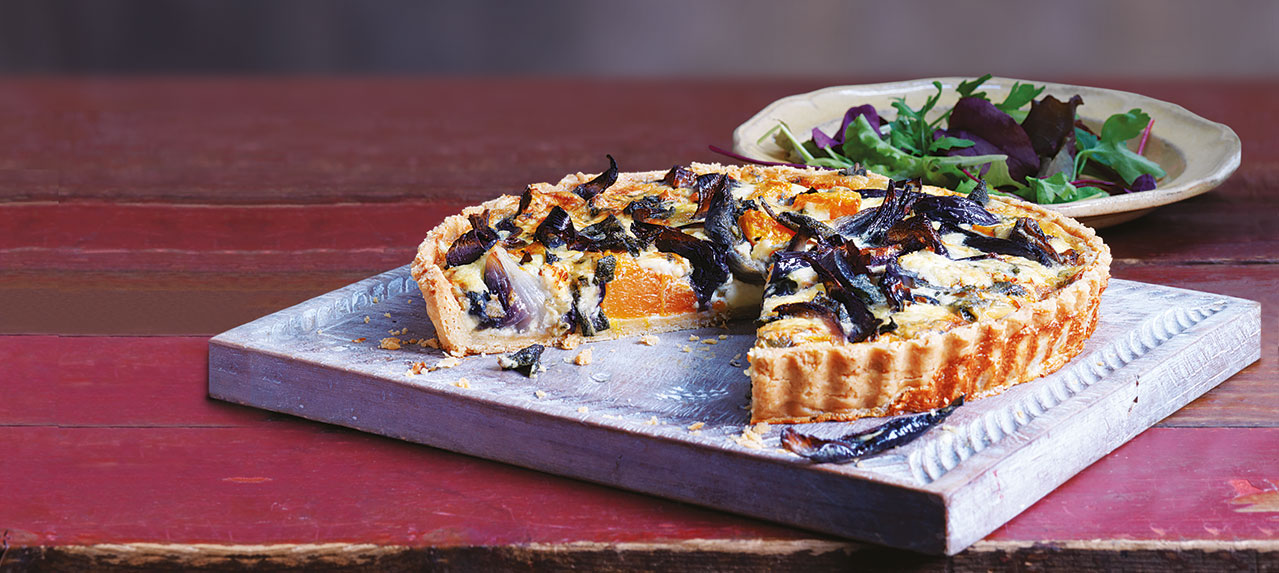 Sweet Crust Pastry
150g Butter Blocks
250g plain flour
1 large egg yolk
Filling
Cooking Mist
300g pumpkin when peeled,
cut into small chunks
2 small red onions, peeled and cut into wedges
20g fresh sage, removed from stalks and roughly chopped
250ml cream
2 large eggs
Sea salt and freshly ground
Black pepper
100g feta cheese, crumbled
1. Preheat the oven to 170°C / 190°C Fan Assisted / Gas Mark 5.
2. To make the pastry, sift the flour into a mixing bowl, rubbing in the Butter Blocks until the mixture resembles fine breadcrumbs.
3. Add the egg yolk and one teaspoon of cold water, mixing quickly to make a smooth dough.
4. Wrap the mixture in cling film and chill for 30 minutes. Spray the pumpkin with Cooking Mist.
Bake for 15 minutes.
5. Add the red onion and sage, then season with salt and pepper and bake for 10-15 minutes. Remove from the oven and set aside.
6. Meanwhile, roll out the pastry and place in a 20cm flan tin, leaving enough pastry so that
it hangs over the sides.
7. Prick the bottom of the pastry and leave to chill for 30 minutes.
8. Once chilled, line the pastry with baking paper and fill with pastry weights or uncooked rice and place the tray in the oven for 15-20 minutes.
9. Take the pastry case from the oven, removing the baking paper and baking weights or rice. Trim off the edges with a serrated knife and return to the oven for a further 5 minutes to dry out completely.
10. To make the egg mixture, mix together the cream and eggs in a large bowl, then add ¾ of the cheese and season with salt and pepper.
11. Evenly spread the roasted vegetables over the bottom of the pastry case and pour over the egg mixture.
12. Scatter over the remaining cheese and cook for 30-35 minutes, until the egg mixture has set and the tart is golden brown. Remove from the oven and serve.