PUMPKIN SAGE & PISTACHIO RAVIOLI
Founder of Maroun Chedid Cooking Academy and Ritage Restaurant
Serves 1| Prep/Cooking Time 90 mins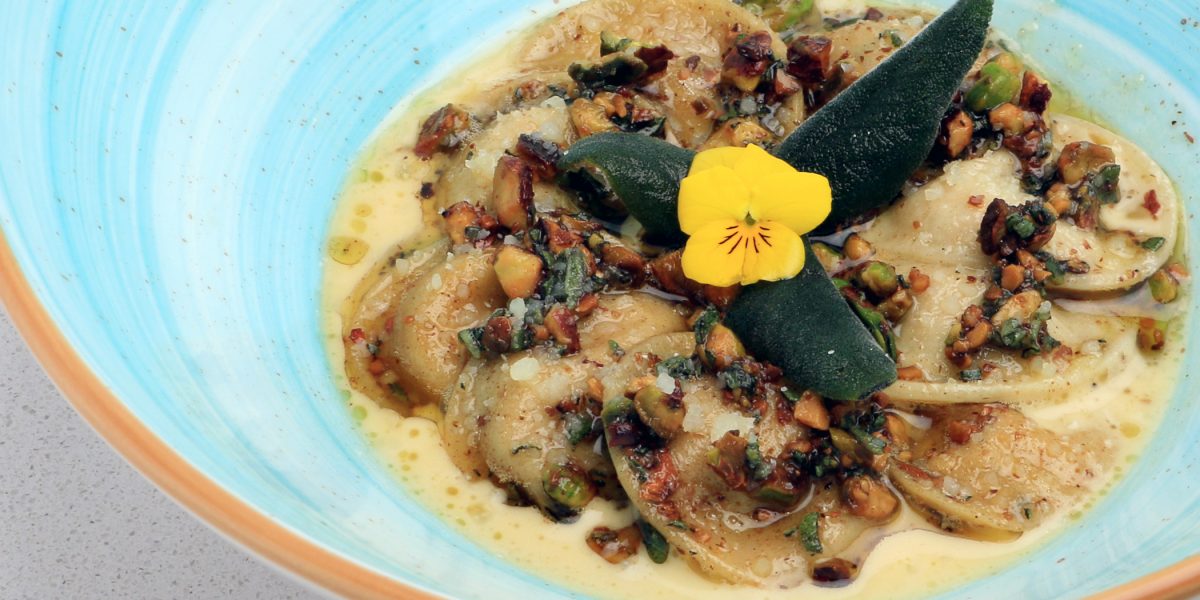 For the pumpkin and pistachio filling
• 55 g cooked pumpkin
• 50 g ricotta
• 5 g pistachio paste
• 5 g grated grana padano cheese
• 3 g pistachio oil
• 5 g roasted, peeled and cracked pistachios
• Salt, to taste
• White pepper, to taste
• 8 g grated fontina cheese
• Garnish
For the pumpkin, sage and pistachio ravioli
• 40 g brown butter
• 20 g cracked pistachios, roasted with brown butter
• 10 pcs pumpkin and pistachio ravioli, boiled
• 2 g minced sage
• 0.5 g truffle oil
• 3 g sage chips
• 1 g shaved pecorino cheese
For the fresh pasta
• 225 g diamond flour
• 35 g egg yolk
• 65 g egg
• 15 ml white wine
• 2.5 g salt
For the pumpkin and pistachio ravioli
• 335 g fresh pasta dough
• 20 g egg yolks
• 115 g pumpkin and pistachio filling
Pumpkin and pistachio filling
Pass the cooked pumpkin through a meat grinder on a medium-to-small sieve.
Mix ricotta with pistachio paste until very smooth.
Put the ground pumpkin in a mixing bowl, along with the ricotta and pistachio paste mixture, grated grana padano, pistachio oil and roasted cracked pistachios. Mix till homogeneous and well incorporated.
Adjust seasoning to taste with salt and pepper. Add fontina cheese and mix very well.
Fresh Pasta
Combine together all ingredients in an electric mixer. Use the hook accessory. Knead for 10 minutes at low speed until the dough is smooth.
Shape into ravioli.
Pumpkin and pistachio ravioli
1. Flatten the first half of the dough into the desired thickness on a pasta sheet, brush with eggs.
2. Spread out the pumpkin and pistachio filling.
3. Flatten the second half of the dough in the same way as the first half. Line over the dough and cut into 6 cm.
4. Press around the filling with the back of a cutter in order to ensure the top and bottom sheets of pasta dough stick firmly.
Pumpkin sage and pistachio ravioli
1. Heat the brown butter, then add the roasted cracked pistachios and the boiled ravioli.
2. Add the minced sage. Dress on a plate. Garnish with truffle oil, sage chips and shaved pecorino cheese. Garnish with cracked pistachio and crispy sage leaf.
Garnish with cracked pistachio and crispy sage leaf.
MORE HARD COPY RECIPES YOU'LL ENJOY

SERVE WITH
Musar Jeune Rosé 2019
Richly aromatic with vibrant fruit flavors.
Nectarines, tangerines, and strawberries
and cream dominate the palate, completed
by a saline minerality.