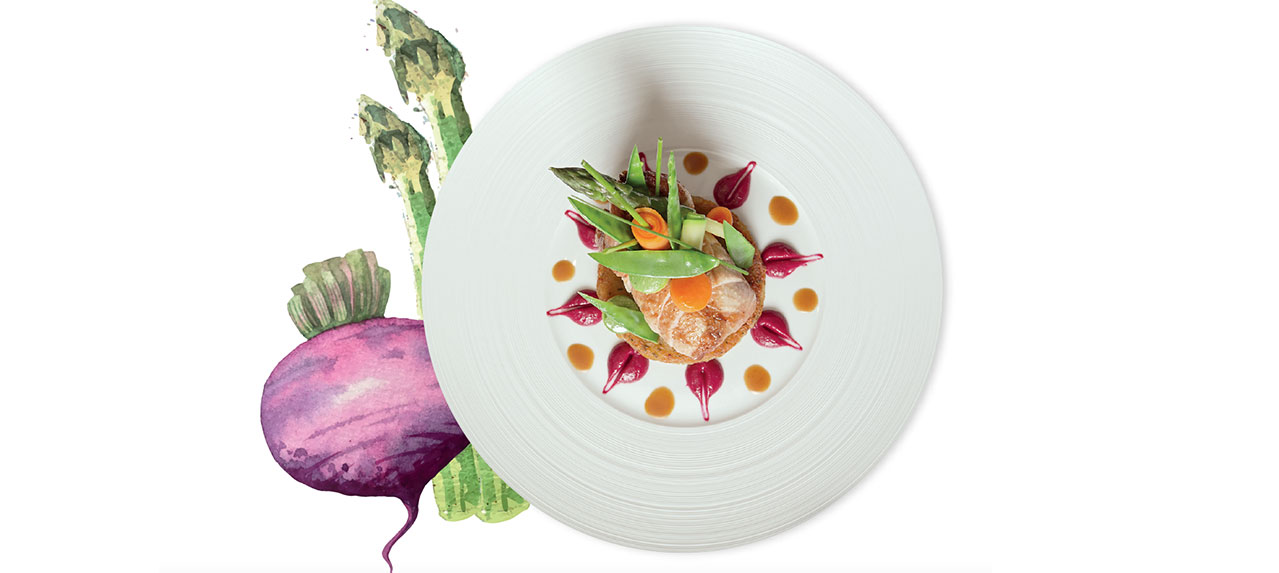 4 pc boneless quail
160g minced chicken breast
50g chicken liver
60g sliced shallots
100g sliced fresh mushrooms
80g duck foie gras half cooked
80 pc fresh spinach
1 egg
180ml cream
30g butter
80ml port wine
Salt to taste
5 spices to taste
Crushed pepper to taste
30g or 1 pc French black truffle
250ml reduced veal gravy sauce
60g shallots
Fresh thyme to taste
1 pc garlic cloves
100 ml olive oil
120g butter
300g cooked beetroot
30g butter
100g honey
50ml chicken stock
3g star anise
Salt to taste
White pepper powder to taste
Beetroot purée
Thyme gravy sauce
1. Season the quail, chicken liver and chicken breast.
2. Melt butter in frying pan. Add in the shallots, mushroom and chicken liver; fry them gently.
3. Once cooked, flambé it with Port wine then leave until cooled down.
4. Prepare stuffing for quail: chop the chicken liver, shallots, mushrooms and chicken breast. Place ingredients in a food processor. Add in seasoning, eggs and cream and pulse until it has a smooth texture. Put stuffing inside quail; add foie gras. Close and shape the quail in buttered aluminum foil.
5. Bake at 160°C for 20 to 25 minutes, then reserve.
6. Place the shallots and the garlic clove in a sauce pan. Cook until a golden brown color. Pour in veal juice and let it rest. Add thyme and allow to infuse the sauce. Strain sauce, butter and season with salt and pepper.
7. Cut cooked beetroot into cubes. Sauté with butter, honey and star anise. Put into food processor with butter to obtain a smooth purée. Season with salt and white pepper.
8. Cook vegetables in salted water and cool them in ice.
9. Upon serving, gently heat vegetable with butter and bay leaf and season with salt and pepper.