QUINOA SALAD (WITH SURIMI, MANGO AND BEANS)
Serves 6 | Prep/cooking 20 mins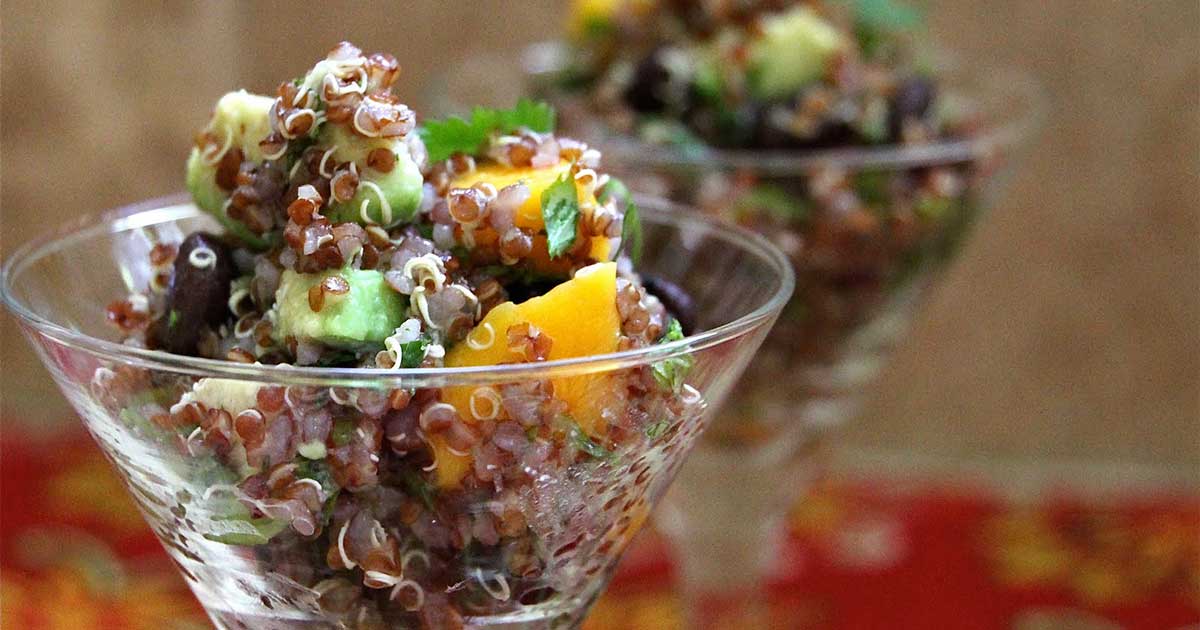 1 cup quinoa
1 diced mango
1 diced avocado
1 diced zucchini
½ chopped shallot
50g surimi or shredded crab sticks
150g fresh chopped coriander
Sprinkle of fresh chopped basil
Handful of soya beans or soya germ for garnish
Dressing
100ml olive oil
Juice of half a lime,
60ml passion fruit juice
Sea salt and pepper to taste
1. Rinse the 1 cup quinoa and put in a pan of double the volume of water on high heat without covering.
2. Once boiling, reduce heat and cover. Remove from heat and leave approximately 15 mins until the quinoa is drained.
3. In a pan, reduce the passion fruit juice with the lime-juice. Let cool and add oil, salt and pepper.
4. Dice the mango, avocado and zucchini into small pieces. Chop the shallots and the coriander.
5. Season the quinoa with some of the dressing.
6. At the bottom of a glass bowl, place 3 tablespoons of the cooled quinoa.
7. Add the zucchini, surimi, avocado, mango, shallots and coriander preferably mixed and seasoned with a bit of the dressing.
8. Garnish with beans and basil.
Note: if you use fresh passion fruit juice, add half a teaspoon of honey. If it is ready juice, no need for honey.