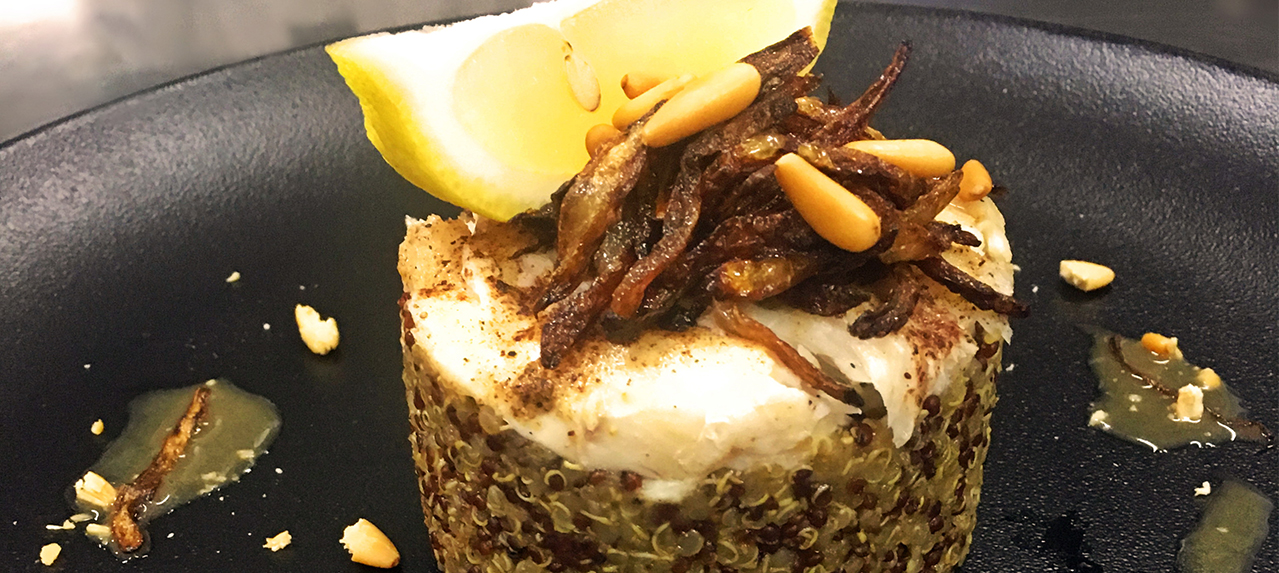 • 5ml Lemon juice
• 150g Onion
• 150g Flour
• 10g Butter
• 400g Cod fillet (Hamour)
• 10g Pine nuts
• 30ml Sunflower oil
• 200ml Olive oil
• 200g Red and white quinoa
• 200ml Fish stock
• 10ml Chicken stock
• 10g Cumin
• 5g Sweet pepper
• 5g Cinnamon
• 2g White Pepper
• 1g Salt
1.  Fry 50g of the diced onion in sauce pan with olive oil then add fish stock, chicken stock, cinnamon powder, cumin, sweet pepper and white pepper.
2. Pour 1.5 litres of hot water and boil for 15 minutes. Cook the quinoa with 800 ml of the finished stock,
set rest aside.
3. Season the hamour fish fillet with lemon, salt, white pepper and olive oil & bake for 8 minutes in 165 C
4. For the topping, fry remaining 100g of the shredded onion in sunflower oil. Once done remove, set aside and fry the pine nuts in remaining oil.
5. Make the butter and the flour  into a roux for liason with the rest of the stock and season with salt and pepper.
6. To serve, use mold to make a base of quinoa, place fish on top and top with the onions. Drizzle the roux over the dish and sprinkle the toasted pine nuts. A squeeze of lemon juice optional.