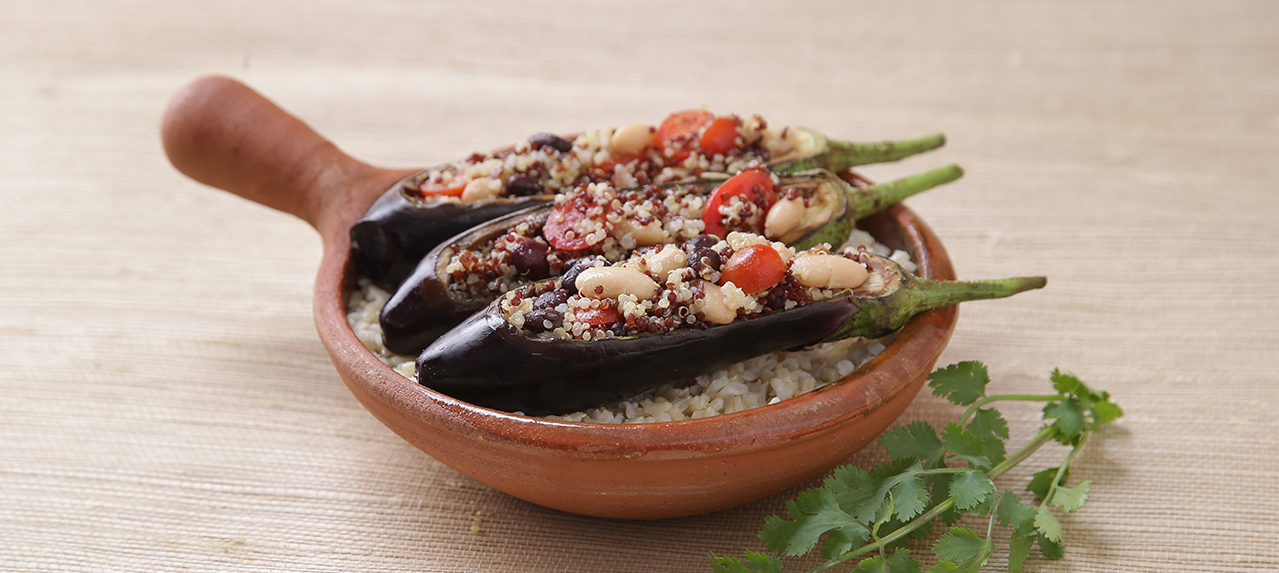 • 1 large eggplant
• ¼ cup quinoa
• ½ cup chopped onions
• 1-2 garlic cloves, minced
• ½ cup chopped zucchini
• ½ cup chopped bell pepper
• ¼ cup black beans
• ¾ cup seeded chopped tomatoes
• ½ tbsp dried parsley
• ½ tsp dried thyme
• ¼ tsp salt
• ¼ tsp pepper
• ¼ tsp crushed red pepper flakes
• Paprika
1. Rinse quinoa thoroughly then cook on stove top according to directions. Set aside once cooked.
2. Cut the eggplant in half, lengthwise, remove pulp, leaving a ¼ thick shell. Set pulp aside.
3. In a large nonstick skillet, add the onions and minced garlic and sauté them until tender. Add zucchini, black beans, bell pepper and eggplant pulp; sauté for 4-6 minutes or until vegetables are crisp-tender.
4. Stir in the tomatoes, parsley thyme, salt pepper and pepper flakes; cook for 1 minute. Add the quinoa
and mix.
5. Divide mixture evenly between the eggplant shells; sprinkle with paprika. Place on baking sheet and bake at 220°C for 20 minutes or until shells are tender.