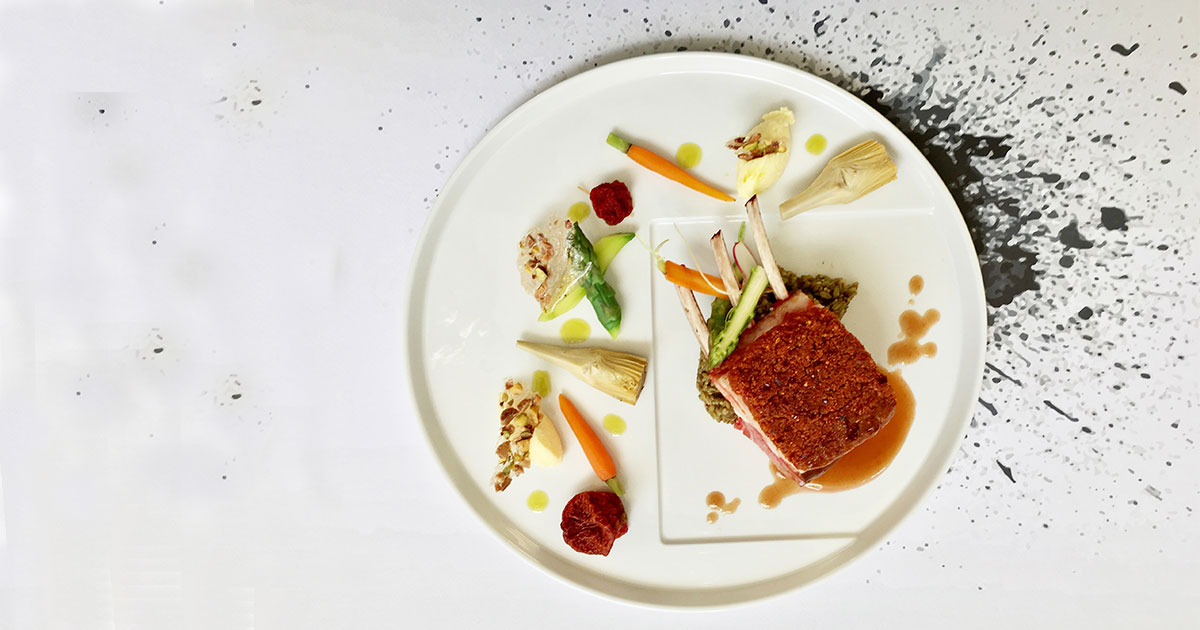 75 g freekeh pilaf
1 pc crusted lamb rack
100 g lamb jus with rosemary & walnut oil
40 g walnut sun dried pepper crust
3 pcs sautéed baby carrot
2 pcs glazed green asparagus
2 pcs cherry tomato
2 pcs artichoke in oil
80 g mashed potatoes
Lamb rack
20 g olive oil 1 pc cracked garlic
1 sprig French thyme 1 sprig rosemary
Lamb jus
20 g olive oil 1 pc garlic head 250 g lamb jus 250 g white chicken stock 1 pc rosemary 15 g butter 5 g walnut oil
Walnut crust
2 slices pain de mie 40 g butter
40 g walnut 40 g sun dried pepper
1 g salt Pinch of black pepper
Mashed potato
1 kg boiled potato (Agrea) 200 g milk
250 g butter 10 g salt
Pinch of white pepper Pinch of nutmeg
For the lamb rack, heat olive oil in a pan. Season the rack of lamb with salt and pepper and sear with cracked garlic, French thyme and rosemary.
Place the walnut crust on the rack of lamb.
Bake in a preheated oven at 180°C for around 8 minutes.
For the lamb jus, heat olive oil in the same pan. Add the garlic head and caramelize until it turns light brown.
Add white chicken stock and lamb jus in sequence, simmer and reduce to a syrupy texture. Remove from heat and pass through a fine strainer.
Add the rosemary sprig and allow to infuse for a few minutes. Pass through a chinois.
Emulsify with the butter and walnut oil.
For the walnut crust, mix all of the ingredients together and place aside to develop the flavors and rest.
For the mashed potatoes, mix all of the ingredients together till homogeneous.
Place the roasted lamb chop in a plate. Garnish with carrots, asparagus, tomatoes and artichoke in oil.
Serve with lamb jus, freekeh pilaf and mashed potatoes.
Chef's Tip
SEASON THE RACK OF LAMB AND LET IT REST FOR 1 HOUR BEFORE COOKING.