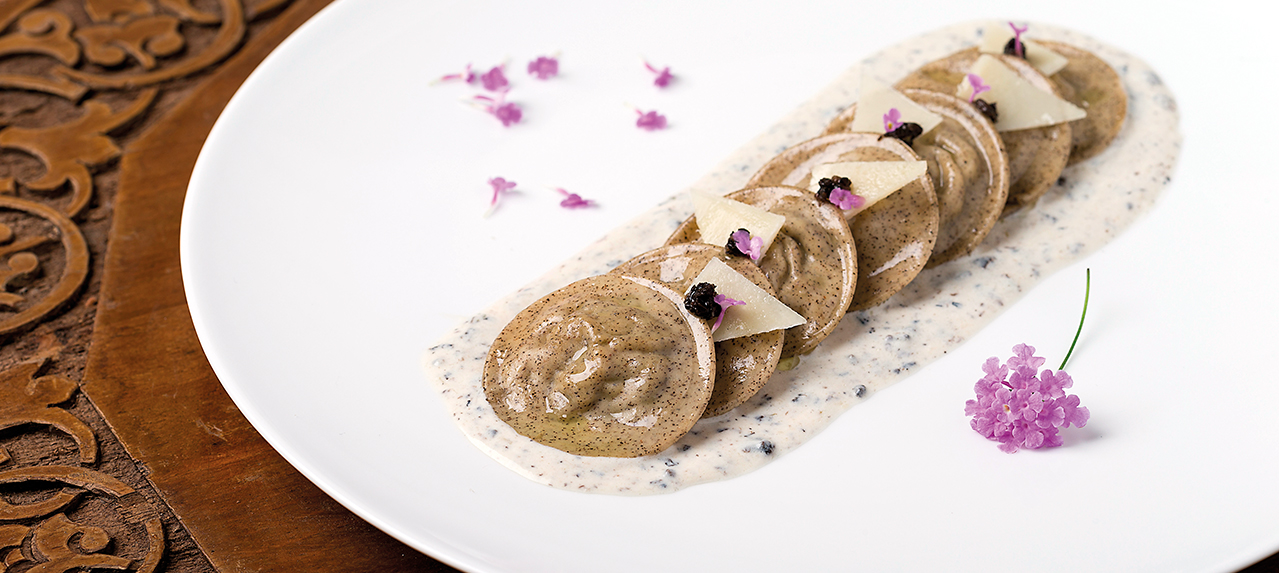 Buckwheat white pasta dough
• 1 ½ cup flour 00
• 3 tbsp buckwheat flour
• 5 pcs egg yolk
• 1 pc whole egg
• 1 pinch salt
• 1 tsp extra virgin olive oil
Stuffing
• 2 tbsp extra virgin olive oil
• 1 small minced onion
• 400g sliced fresh mushrooms
• 1 tbsp flour 00
• 1 bunch minced basil leaves
• ½ cup truffle paste
• 1 tsp white truffle oil
• 2 tbsp grated grana padano cheese
• Black pepper powder to taste
• Salt to taste
For the sauce
• 1 L fresh cream
• 1 cup milk
• ½ cup truffle paste
• ½ cup grated grana padano cheese
• ¼ cup grated pecorino cheese
• 1 tbsp white truffle oil
• Black pepper powder to taste
• Salt to taste
1. Put the flour 00 and buckwheat in the bowl of a dough kneader. Add the egg yolk and whole egg
and knead at low speed.
2. As the dough is being kneaded, add the salt and leave it to rest until the texture becomes smooth,
elastic and forms a small ball.
3. Cover with a wet towel and let rest in the fridge for at least 2 hours. Roll into thin sheets and cut into
the desired shape.
4. In a braising pan, heat the olive oil and sauté the onions with salt till translucent and cooked through.
Add the mushroom and cook over a high heat for 3 to 4 minutes while constantly stirring.
5. Sprinkle the flour on the surface and place in a preheated oven at 180°C for 4 minutes to roast the flour. Remove from oven and add the basil, truffle paste, grated grana padano, black pepper and salt. Mix all together until the mixture is homogenous.
6. Turn the mixture into a fine purée using a food processor, addthe white truffle oil and adjust seasoning
if needed.
7. Place the fresh cream and milk in a sauce pan and bring to a simmer. Add the truffle paste, grated pecorino and grana padano cheese and simmer till the sauce is homogenous.
8. Boil the ravioli in boiling salted water. Toss with the ravioli and garnish with edible flower, grana padano, drizzle of white truffle oil and serve.