Serves 60 Kibbeh | Prep. time 45 mins | Cooking time 25 mins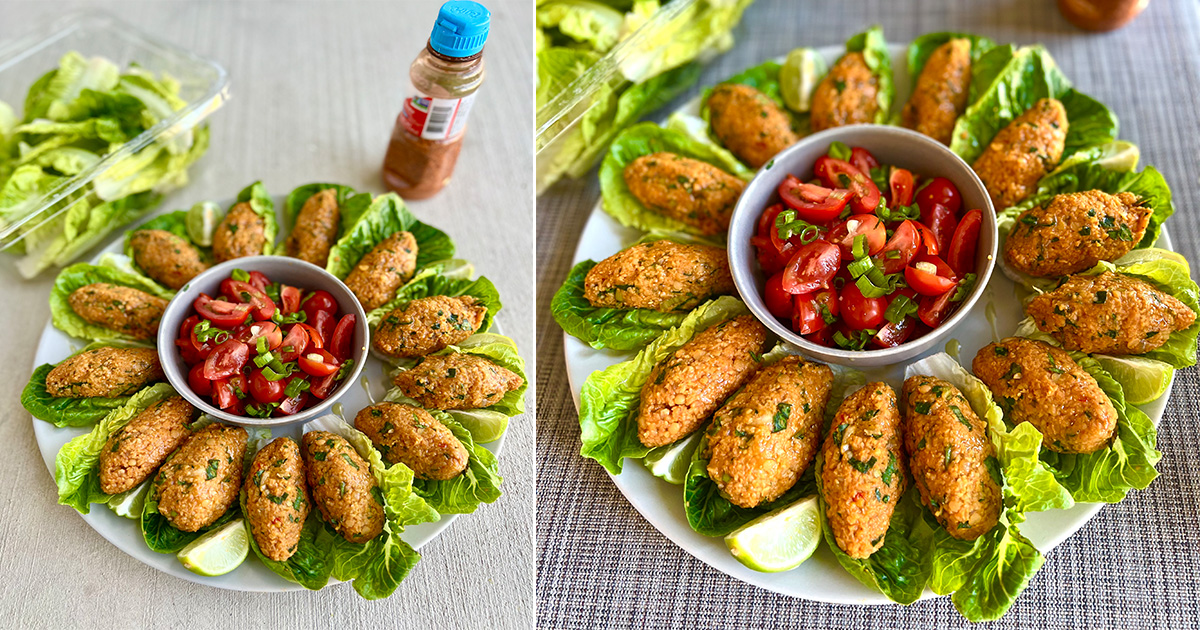 2 cups red lentils
2 cups fine bulgur #1
5 cups water
1 large onion, chopped
1 tbsp garlic paste (4 cloves of garlic are peeled, chopped and mashed with 1/2 tsp salt in a mortar)
3/4 cup chili sauce (see note below)
2 Tbsp red pepper paste
1/4 cup tomato paste
1/4 cup olive oil (more as needed)
2 tbsp vinegar or lemon juice or tamarind juice 1 cup chopped parsley
1/2 cup chopped basil (can use other herbs, like mint) 3/4 cup chopped green onions
2 tbsp date syrup or molasses or piloncillo syrup or brown sugar salt, black pepper, to taste
2 tsp ground cumin
1 pinch of saffron, ground-up till powdery with a pinch of sugar or salt in a mortar (optional)
Place the lentils in a sieve and rinse briefly a few seconds under running water. Transfer to a large pot and cover with water (about 5 cups). Bring to a boil and lower the heat to medium for about 8 to 10 minutes or until the lentils have softened.
Remove from the heat, and sprinkle the bulgur over the lentils. Cover the pot and let it sit for about 10 minutes (or longer). The bulgur should soften but can use a bit more moisture at this stage.
In the meantime, fry the onion in olive oil in a skillet over medium heat for about 15 minutes or until it has softened and golden. Cover the skillet for a few minutes to speed the process.
Add the garlic paste, cumin, tomato paste, red pepper paste, chili sauce, saffron (if using).
Simmer the mixture gently for about 15 minutes, watching to make sure it does not reduce too much. You want to have enough to moisten the kibbeh mixture a bit more.
When the mixture is ready, transfer it to the kibbeh dough and mix it thoroughly.
Add the fresh herbs and green onions and mix well. Add a bit of olive oil and lemon or lime juice or tamarind juice, if needed. Mix some more and taste every step of the way to adjust seasoning.
Shape into balls or ovals, and plate on lettuce leaves or small (preferably tender) cabbage Serve with extra lime or lemon slices, and a fresh salsa of diced tomatoes, onions, and parsley or cilantro doused in lemon or lime juice and a touch of salt.
FOR THE CHILI SAUCE
Pick a few dried chilies (I used 3 anchos and 5 guajillos), half an onion, two or three garlic cloves, and toast in a skillet briefly over medium heat until the smokiness wafts through the air, about 5 minutes.
Cover with about 3 cups of tap water and bring to a boil. Boil a few minutes then turn off the heat. Let them soak for a couple of hours or overnight.
Transfer to a blender and puree them; pour the sauce over a sieve set over a bowl and press to extract as much of the sauce as possible, keeping the seeds and stems trapped in the sieve.
Pour the sauce into a saucepan and place over medium heat and reduce it while adding some oregano or zaatar if desired, some cumin, salt, and some brown sugar or piloncillo (juice or in chunks) or a couple tablespoons of date or carob molasses. Let the sauce thicken and taste and adjust seasoning.
TIPS
Keep the leftover sauce for a dip with chips, or to mix with rice or beans or as a dipping sauce for some kebabs.
It is also easier to seed and remove the stem prior to submerging the chilies in water. Wearing gloves, seed the chilies and remove the stem as needed.
The salsa can also be bought ready-made.