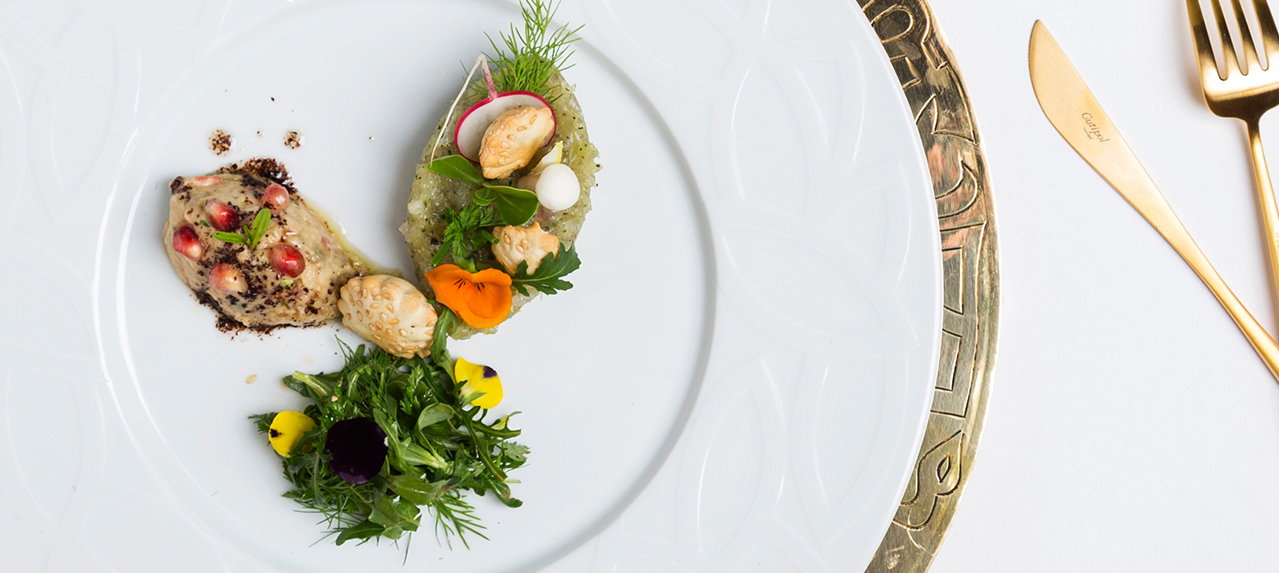 For the spicy eggplant moutabal
• 1 cup eggplant moutabal
• 2 tbsp diced tomato skin
• 1.5 tbsp diced green bell pepper
• 1.5 tbsp diced cucumber
• 1 tsp minced green chili pepper
• 8 leaves minced mint
• 1 tbsp minced parsley
• 3 tbsp pomegranate molasses
• Salt
For the herb salad
• 0.5 cup purslane
• 0.5 cup wild rocket
• ¼ branch dill
• ¼ branch chive sticks
• 1 branch chervil
• 6 tbsp Georgette extra virgin olive oil
• Salt and pepper to taste
• 1.5 tbsp Georgette verjuice
• 1 tsp Georgette orange blossom water
For the red snapper kebbeh
• 1 cup boneless red snapper filet
• 1 tsp minced onions
• 2 leaves basil, minced
• 1 tsp coriander, minced
• 0.5 tsp marjoram, minced
• 1 tsp green chili, minced
• 1.5 tsp soaked white crushed wheat
• Orange zest, to taste
• Lemon zest, to taste
• Salt and white pepper to taste
• 2 tbsp extra virgin olive oil
For the sumac coulis
• 0.5 cup olive oil
• 1 tbsp sumac
• 1 tsp minced chives
• 1 clove cracked garlic
• Salt, to taste
1. For spicy eggplant, lace all the ingredients in a mixing bowl, mix very well to perfectly blend all the ingredients together.
2. For sumac coulis, mix all ingredients together in a sauce pan, and heat to 60°C. Leave aside to infuse for 15 minutes. Remove the garlic.
3. On a chilled surface cut the red snapper filet into very small cubes. Add the minced onion, basil, coriander, marjoram and green chili to the red snapper, cut and mix all the ingredients again on the same chilled surface till the right flavors and texture develop properly.
4. Transfer the mixture into a chilled bowl placed over an iced bain marie, add the soaked white fresh wheat, lemon and orange zest, mix till well incorporated and season with salt and white pepper. Finish with the extra virgin olive oil.
5. Place all the salad herbs in a bowl. Add the extra virgin olive oil, verjuice and orange blossom water. Mix gently with the tips of your fingers. Season to taste with salt and pepper. Plate all dishes together and serve.