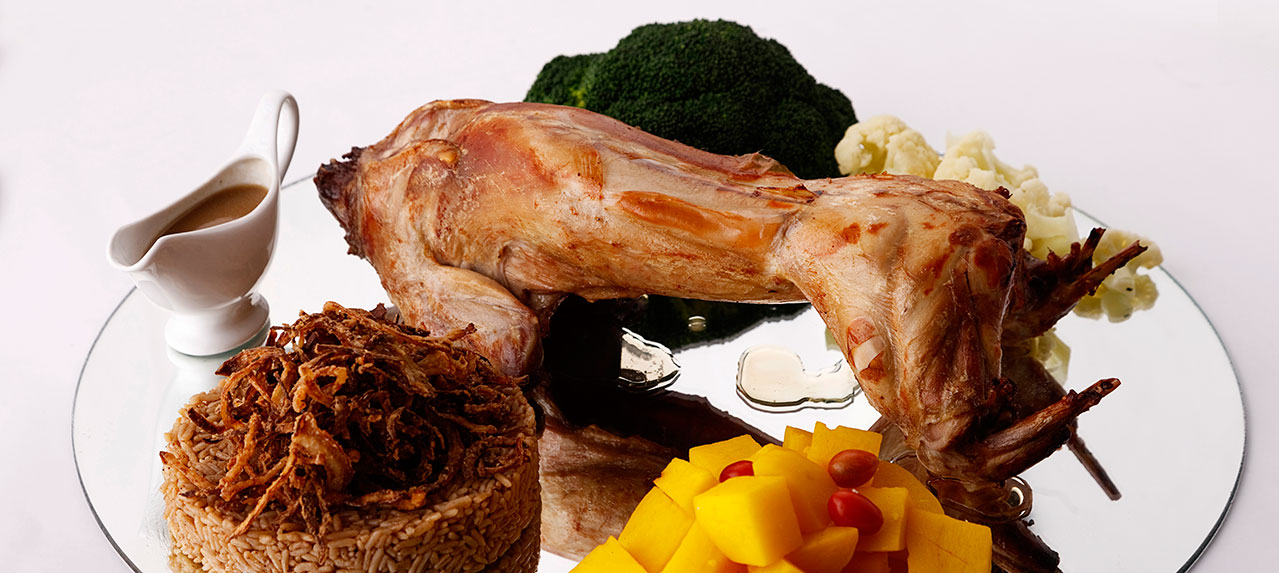 1 rabbit (keep the liver)
50g olive oil
40g butter
200g minced beef
40g raisins
Pinch of salt
Pinch of pepper
Pinch of four spices
25g pine nuts
1 egg white
40g sliced mushrooms
40g finely chopped onions
1 large cup of red wine
Garnish
100g broccoli
100g potatoes
100g cauliflower
400g brown rice
1 small cup soy sauce
1L beef stock
1. Mix the minced beef with the chopped liver and egg white.
2. Sauté the onions and add to the mix. Add the pine nuts, raisins, four spices, salt and pepper.
3. Stuff the mixture inside the rabbit. Place on a tray, rub with olive oil, salt and pepper. Let it marinate for half an hour at room temperature, then place in the oven at 140°C for 34 minutes; turn up the temperature to 180°C for 12 minutes.
4. When cooked, deglaze the tray with red wine. Boil the red wine, add 150g of the beef stock from the tray then sauté the mushrooms and add it to the stock.
5. Let it boil on a low heat and mix with an electric hand mixer till you get the right consistency.
6. Boil the broccoli, potatoes and cauliflower. Sauté the brown rice with butter until it's translucent, add the salt, a small cup of soy sauce and the beef stock. Boil it on low heat for 20 minutes and serve with the rabbit.