ROASTED LOBSTER WITH WHITE ASPARAGUS
BY CHEF ANTOINE BONNET, BRASSICA, DOWNTOWN, BEIRUT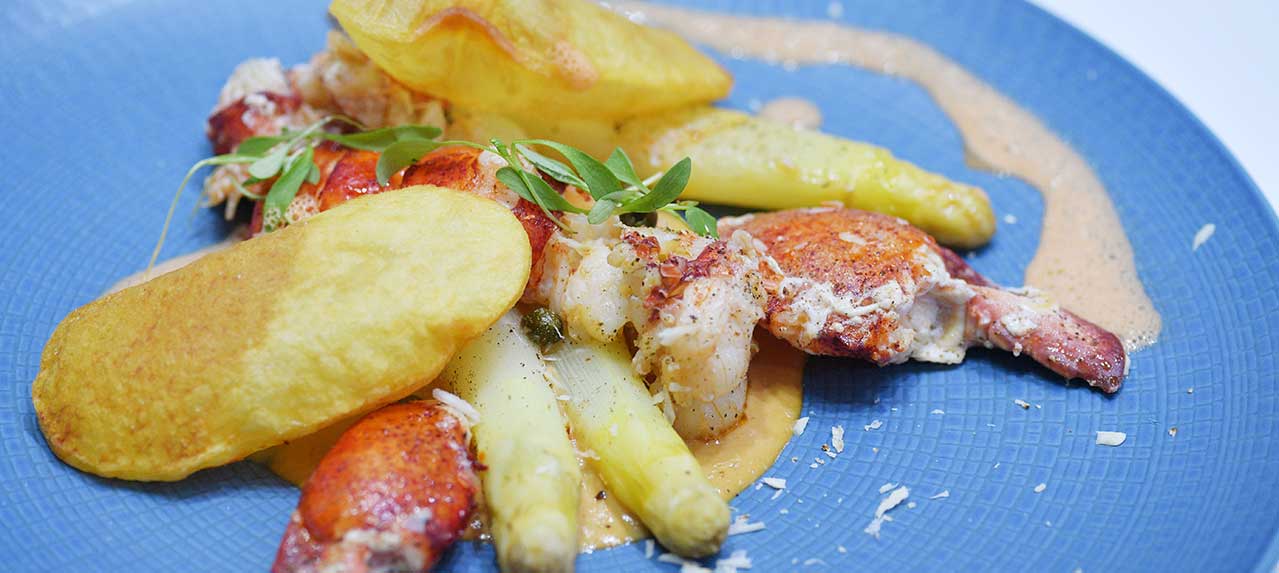 2 live Lobster
1 bunch White asparagus
2 pcs Shallots
4L Mineral water
1 pcs Bay leaf
6 pcs Hazelnuts
Some leaf Cilantro
Salt
Black Pepper
400g Large Potato
2 x 1 L Sunflower oil
30g Butter
10g Kombu
2pcs Head of lobster
25g Olive oil
25ml Brandy
10g Tomato paste
25g Carrots
25g Onion white
1 L Mineral water or fish stock
1/2 pcs Tomato
1 pcs Kaffir leaf
50ml Coconut cream
20g Leek
15g Parsley branch
2g French thyme
1. Remove the head of lobster. Poach the lobster for 5 minutes in boiled salted water. Remove and put into ice water bath. Take out all the shells, break the claws and remove the lobster meat.
2. Peel the asparagus and poach in boiled salted water for 5 minutes then put in ice water bath.
3. In a hot large saucepan, put the olive oil and the head of lobster and cook well until colored.
4. Add the tomato paste, the carrot and onion cut in diced, cook again until golden caramelized.
5. Add the Cognac and flamed. Add mineral water, or fish stock.
6. Cook slowly on the gas for 30 minutes. Add the aromatic garniture, the tomato cut in quarter and cook again slowly for ten more minutes.
Add the coconut cream and cook again slowly for another 10 minutes.
7. Strain all. Put back the final Bisque in a pan sauce and reduce with the kaffir leaf until the thickness of a sauce.
(Make sure in this step not to have any water close by, as it could be dangerous to this preparation, to be with an adult and to have enough cooking space).
8. Prepare 2 saucepans with the sunflower oil, one at middle temperature and one high temperature.
9. Cut the potato into round shape without skin. Using a mandolin slicer, cut the potato in 5 mm thick.
10. In the first saucepan with the sunflower oil in middle temperature, fry the potatoes one by one during 2 minutes and gently stirring. Remove and place on a towel to dry.
11. Put back the potato in the second saucepan with sunflower oil and fry at high temperature until puffing and crispy.
12. Remove and place on the towel to be dry, salt and reserve.
13. Put the shallots into aluminium fold as a bonbon and cook for 45 minutes at 180ºC.
14. Remove the shallots skin to get the pulp and reserve.
15. Cook the Kombu in boiled mineral water during 5 minutes. Strain and dry.
16. In a robot mixer, add the Kombu and mix well. Add the butter at room temperature and mix again until smooth.
17. In a sautéed pan, add the Kombu butter then add the white asparagus and cook for 2 minutes with middle gas.
18. Add in the same pan used to sautéed the lobster and cook again for 2 minutes.
19. In a large plate, put the bisque sauce in the middle, then the asparagus, add the lobster on top of the asparagus. Add the pomme de terre soufflée around.
Add the comfit shallots.
20. Finalize with some sauce around. Garnish with a few cilantro leaves and grated hazelnuts.