BY U.S. MEAT EXPORT FEDERATION
Serves 4 | Prep/cooking 45mins
A colorful way to introduce quinoa to your kids with ranch-seasoned Ground Chuck Beef and slaw.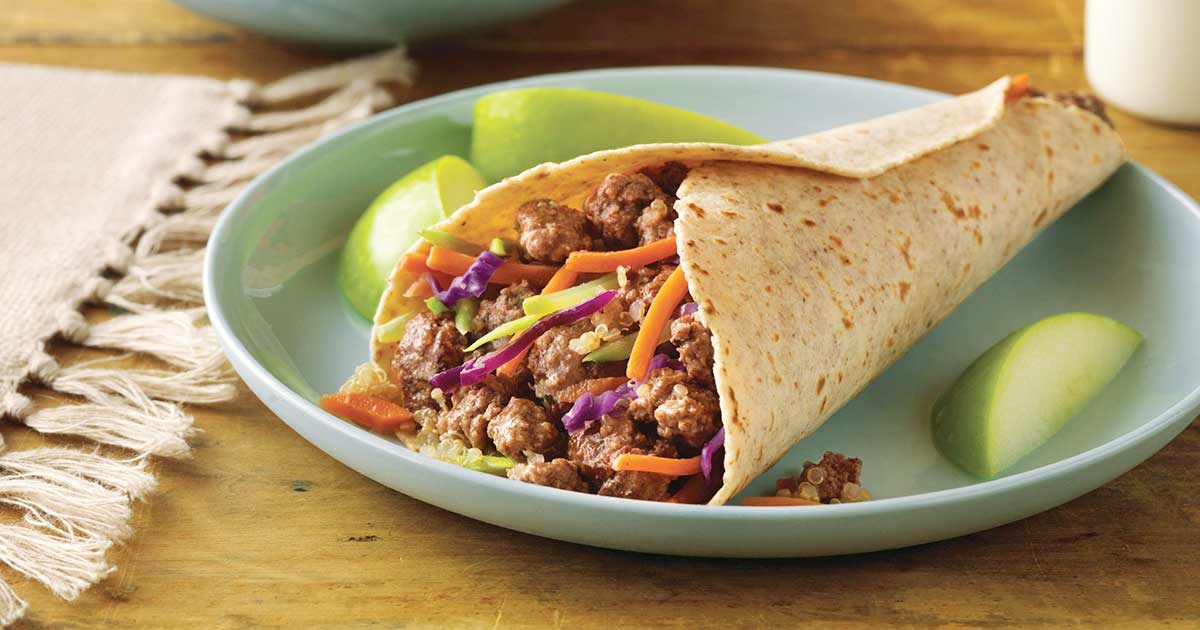 Courtesy of the Beef Checkoff
Nutrition information per serving: 418 Calories; 108 Calories from fat; 12g Total Fat (3 g Saturated Fat; 3 g Monounsaturated Fat;) 76 mg Cholesterol; 695 mg Sodium; 41 g Total Carbohydrate; 6.8 g Dietary Fiber; 31 g Protein; 5.6 mg Iron; 6.4 mg Niacin; 0.5 mg Vitamin B6; 2.3 mcg Vitamin B12; 6.6 mg Zinc; 19.6 mcg Selenium.
This recipe is an excellent source of Dietary Fiber, Protein, Iron, Niacin, Vitamin B6, Vitamin B12, Zinc, and Selenium.
Ground Beef – Ingredient Cuts
Versatility and rich flavor make it ideal for burgers, tacos or wraps. Perfect for breakfast, lunch and everything in-between.
Cal: 420
454g Ground Beef (93% lean or leaner)
1 cup water
1/3 cup uncooked quinoa
2 tbsp dry ranch dressing mix
1/4 tsp black pepper
2 cups packaged broccoli or coleslaw mix
4 tortillas, medium whole grain or spinach (18 to 20 cm diameter)
Apple slices
Red bell pepper strips
Cucumber slices
Carrot slices
Sliced almonds or chow mein noodles
1. Heat large nonstick skillet over medium heat until hot. Add Ground Beef; cook 8 to 10 minutes, breaking into 1.30 cm crumbles and stirring occasionally. Remove drippings.
2. Stir in water, quinoa, ranch dressing mix and pepper; bring to a boil. Reduce heat; cover and simmer 10 to 15 minutes or until quinoa is tender. Stir in slaw; cook, uncovered, 3 to 5 minutes or until slaw is crisp-tender, stirring occasionally.
3. Divide beef mixture evenly among tortillas; garnish with toppings, as desired. Fold over sides of tortillas and rolling up to enclose filling.
Tip
Cooking times are for fresh or thoroughly thawed Ground Beef. Ground Beef should be cooked to an internal temperature of 71⁰C. Color is not a reliable indicator of Ground Beef doneness.